The number of students going abroad for studies is estimated to reach 200,000 this year.
Correspondingly, the number of high school and college graduates is expected to hit a record high of 14.8 million and 5.5 million this year, China Education International Cooperation Group General Manager Li Guanjun said.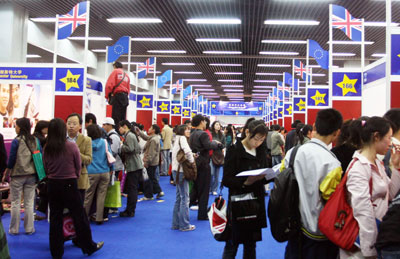 Students and parents flock to the 2007 International Education Exhibition in Beijing in October last year. This year, an estimated 200,000 students are likely to travel overseas for studies. [China Daily]

Last year, China had 14 million and 5 million fresh high school and college graduates, according to the Ministry of Education (MOE).
And one-fifth of those college graduates had failed to find a job by the end of last year, the MOE said.
"The grim job situation at home, a strong and rising yuan and a favorable visa and scholarship environment will together prompt more students to study abroad," Li said.
"So I expect a 30 percent rise in the number of those going abroad for studies."
The number of such students has been rising in recent years, with about 150,000 traveling overseas last year.
"An average of 130,000 Chinese have been going abroad for studies every year over the past few years, boosting exchanges in the educational fields," said Liu Baoli, deputy director of MOE's international cooperation and exchange division.
The US, Britain, Australia and Canada are the top choices of the students eager study abroad.
Thanks to the easing of US visa rules last year, realizing the "American dream" is no longer very difficult for many Chinese students, said Liu Xuyan, counsel for Beijing Chivast Education International, a leading agency that helps students to study abroad.
"Last year was special for those eager to study in the US because the visa pass rate for that country reached a record 80 percent," Liu Xuyan said.
US embassies and consulates in China issued more than 400,000 visas, including 52,000 for students, from late 2006 to late 2007.
"With more scholarships available, the extension of work plan after graduation and the easing of restriction on part-time work, the prospects of studying in the US will be brighter this year," she said.
As another hot destination for Chinese students, Australia has started an "Australia scholarships" program to strengthen education ties in Asia Pacific. As a result the number of scholarships for students from the region doubled last year.
The Australian immigration authority introduced an 18-month skilled-graduate visa for foreign graduates in September last year.
Canada, too, has seen an increase in the number of younger Chinese students in recent years. Last year, Canada received about 30,000 Chinese students, half of who were below 18 years, according Canadian Education Centre's figures.
The "young trend", experts say, is likely to continue this year.