The public transport system is about to be put to the test, with 2.3 billion trips expected to be made over the 40 days of the Spring Festival season, which runs from Wednesday until March 2.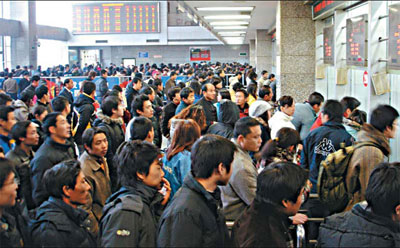 Passengers wait in long lines for tickets Tuesday at Suzhou railway station in Jiangsu province, as the peak travel season for the Spring Festival draws near. [China Daily]

Transport officials said Tuesday that the number of trips is expected to set a new record, up from 2.17 billion last year, partly as a result of changes to the country's official holiday schedule.
China adopted a new schedule this year, which saw the cancellation of the weeklong May Day holiday and the Spring Festival holiday being brought forward by a day to start from the eve of the Lunar New Year, which falls on February 6, instead of the first day of the festival.
"This is the first Spring Festival since the change, so travel patterns are likely to be different to those in the past," He Jianzhong, spokesman for the Ministry of Communications, said at a press conference in Beijing Tuesday.
The number of pre-festival travelers is expected to peak between January 30 and February 5, while February 11, 12, 22 and 23 are expected to see the most number of trips being made after the festival.
The ministry has estimated that 2.15 billion bus trips will be made, up 5 percent on last year, and 29.5 million boat trips, up 3 percent.
In preparation for emergencies on the water, it has assigned more than 10,000 staff on more than 1,300 vessels to stand by in busy waters such as the Bohai Bay, Qiongzhou Strait and around the Zhoushan islands. It has also readied nine rescue aircraft.
"The largest maritime patrol vessel, Haixun 31, which was delivered last year, will be dispatched to the mouth of the Pearl River to ensure the safety of ships and passengers around Zhuhai and Macao," He said.
Similarly, the Ministry of Public Security has urged traffic management departments to strengthen operations and prevent both large-scale traffic jams and serious accidents - of 10 fatalities and above - from occurring during the holidays.
The country's railways and civil aviation administrations have also made plans to handle the high passenger flow.
The railways are expected to carry 179 million passengers this year, an increase of 8.3 percent over last year, the Ministry of Railways said earlier.
The ministry has arranged for 311 additional passenger trains, including high-speed bullet trains, and has contingency plans to deal with emergencies.
The General Administration of Civil Aviation of China (CAAC) estimated that at least 22 million passengers will fly during the 40 days around the festival period, up 10 percent on last year.
Yang Guoqing, vice-minister of the CAAC, urged airlines and airports at a working conference last week to ensure enough flights on busy routes.