BEIRUT -- A car bomb damaged a US diplomatic car in Beirut on Tuesday, killing at least three people and wounding 16, and the US State Department said no Americans died in the blast.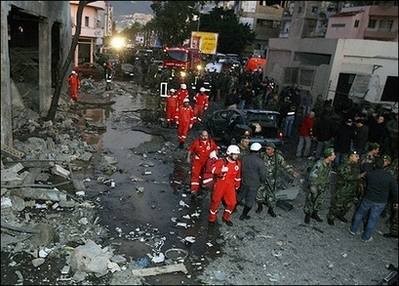 Lebanese resuce workers arrive at the site of a bomb blast in a northern Beirut suburb January 15, 2008. Three people were killed in a remote-controlled bomb blast that targeted a US embassy car in the Lebanese capital on Tuesday, the latest in a string of attacks in the troubled country. [Agencies]
The bomb sent a column of smoke into the sky, tore masonry from buildings and destroyed at least six cars in a Christian suburb north of Beirut, as well as damaging the armored embassy car.
The blast coincided with US President George W. Bush's visit to Saudi Arabia as part of a weeklong tour of US Middle East allies.
Bush is not visiting Lebanon, though Washington has been a strong backer of the Beirut government in its power struggle with the Hezbollah-led opposition backed by Syria.
The Lebanese government put the death toll at three but the State Department said the bomb killed four Beirut residents. None worked for the embassy.
"There were no American diplomats or American citizens in the car at the time," State Department spokesman Sean McCormack said. A Lebanese national working for the US Embassy and a driver were in the car when it was attacked, and the driver was slightly wounded, he said. An American passer-by was also hurt.
Related readings:


 Lebanon's presidential election postponed again


 Bomb kills senior Lebanon general


 Mideast peace process, a hard nut for weak Bush


 Bush pledges to return to Mideast in May
Lebanese and US security officials were at the scene, where rescue workers covered a corpse with plastic sheeting. Pools of blood covered the road. Two of the dead were Lebanese and the third a Syrian, security sources said.
"I'd like ... to just state the outrage of the United States against the terrorist attack that took place in Lebanon today," US Secretary of State Condoleezza Rice, who is traveling with Bush, said in Riyadh.
"To the degree that there is any thought of intimidation in an attack of this kind, the United States will of course not be deterred in its efforts to help the Lebanese people, to help the democratic forces in Lebanon, to help Lebanon resist foreign interference in their affairs," she said.
U.N. Secretary-General Ban Ki-moon "deplores this act of terror and extends his sympathies to the families of those killed and injured," spokeswoman Michel Montas said in a statement.
Lebanon has seen more than 30 explosions in the past three years, many hitting anti-Syrian politicians and journalists.
Members of the US-backed governing coalition who have blamed Damascus for previous attacks condemned the bombing but did not name any suspects.