LOS ANGELES -- Hillary Rodham Clinton holds a commanding lead over Barack Obama in California as the Democratic presidential contest heads toward the February 5 primary, a new statewide poll showed Monday.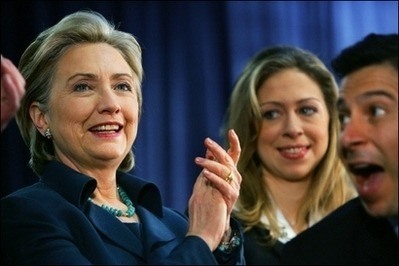 A supporter shows his excitement as Democratic presidential candidate Hillary Clinton and daughter Chelsea take the stage to announce her plan to jumpstart the economy January 10, 2008 in the City of Commerce, California. [Agencies]
Meanwhile, Arizona Senator John McCain had a smaller edge among Republican candidates, according to the Los Angeles Times/CNN/Politico poll conducted by Opinion Research Corporation.
The poll, published on The Los Angeles Times website, showed Clinton led Obama 47 percent to 31 percent among voters judged likely to cast ballots in California, while former North Carolina Sen. John Edwards, was a distant third with 10 percent.
People planning to vote in the Democratic primary in California embraced the notion of "change" as more crucial than "experience" in deciding which candidate they will support, the poll said.
Obama led among voters who said "change" was their top priority, while Clinton, who has touted her experience, dominated among those who favored experience but remained the choice of almost one-third of voters who said change was imperative,
By wide margins, Democratic primary voters also said Clinton would be the candidate best equipped to battle the Republicans in the fall.
The Republican race is far more uncertain. Among likely voters, McCain was ahead with 20 percent, Mitt Romney was at 16 percent, Rudolph W. Giuliani at 14 percent and Mike Huckabee at 13 percent. All four were within the poll's margin of sampling error.
Overall, Republicans judged McCain to be the party's candidate best positioned to defeat the eventual Democratic nominee, and, by a broad margin, listed him as the candidate most possessing honesty and integrity, according to the poll.
The poll provided the first public glimpse of the race in the nation's largest state since the initial round of contests in Iowa and New Hampshire began to narrow the field.
The survey, supervised by Times Poll director Susan Pinkus, interviewed 1,054 registered voters between January 11-13, including 384 likely to vote in the Democratic primary and 255 Republican likely voters. The margin of sampling error was 5 points among people likely to vote in the Democratic primary and 6 points among Republican likely voters.