China and India Monday cemented a shared vision for the 21st century, agreeing to raise the annual volume of bilateral trade to $60 billion by 2010.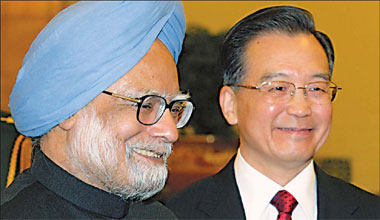 Premier Wen Jiabao greets Indian Prime Minister Manmohan Singh at the Great Hall of the People in Beijing Monday. [China Daily]
The consensus was reached by Premier Wen Jiabao and visiting Indian Prime Minister Manmohan Singh after a two-hour meeting.
Wen said the joint statement issued Monday sends positive signals to the world that China and India trust and support each other for mutual progress and the establishment of a harmonious world.
Related readings:



 Sino-Indian doctors to help poor

 Move to spur Indian imports


 Chinese woman dancing to Indian beat all her life


 Students flocking to China


 Cultural ties gastronomically good


 China, India pledge to resolve border issue


 China, India outline measures to improve relations


 China, India vow to expand trade, economic cooperation


 China plus India equals global leadership


 Beijing's Olympics efforts 'inspiration' for India
Singh described the statement as an "important milestone in the evolution of relations".
 "We are cooperative partners rather than competitors," Wen told reporters after the meeting, adding that Sino-Indian relations face strategic opportunities for development.
The two sides set a revised, ambitious two-way trade target of $60 billion by 2010, reflecting their confidence in making business the priority of rapidly expanding ties. The previous target of $40 billion by 2010 is expected to be met this year while the target of $20 billion for 2008 was achieved in 2006.
"The two countries recognize that bilateral ties should be based on strong, diversified and mutually beneficial economic ties," Singh said.
In a substantive move to give a major push to their ties, the two countries signed 10 deals in areas ranging from economic planning to housing, and railway construction to health and culture.
They also agreed to launch a feasibility study on a regional trading agreement at a proper time.
On boundary disputes, the two leaders said they decided not to let long-running differences cloud the development of their relationship and instructed their special representatives to speed up efforts to achieve a workable and fair framework of settlement on the basis of mutual understanding.
While officials continue talks on the border dispute, the two sides reiterated their commitment to maintaining peace and stability on the border areas.
Declaring that Sino-Indian relations were of "regional and global significance", Singh said he and Wen had agreed to deepen "mutual understanding and trust between armed forces".
"We welcomed the successful conclusion of our first joint military training exercise (in Kunming last month), and agreed to hold a second exercise in India this year," said Singh.
It is reported that a second China-India defense dialogue will also be held this year to further military understanding.
Among other initiatives announced, senior leaders and foreign ministers of the two countries will exchange visits within the year and the two countries will hold a "China festival" and an "India festival" in 2010.
Wen invited Singh to revisit Beijing in October to attend the Asia-Europe Summit while the Indian leader asked the premier to visit India at a suitable time.