The government will send buying missions to India this year to try to boost imports from its Asian neighbor.
So said Assistant Minister of Commerce Chen Jian at the China-India Economic, Trade and Investment Cooperation Summit in Beijing yesterday.
Chen said the government would try to increase Chinese imports from Indian companies through exhibitions and promotions.
Indian officials also said they wanted to narrow the trade gap between the two countries.
China's exports to India stood at $21.61 billion in the first 11 months last year, while imports hit $12.58 billion, the Ministry of Commerce said. The imbalance has raised concerns in India.
"The challenge before us is to diversify our export basket to China," visiting Indian Prime Minister Manmohan Singh said.
"I would urge Indian businesses to vigorously pursue opportunities for expanding non-traditional exports," he said.
The Indian Union Minister of Commerce and Industry Kamal Nath, accompanying the prime minister, said he's asked industry associations to "host these promised (Chinese) missions and find suitable areas where Indian companies have core competencies with a globally competitive edge."
He said India wants to diversify its exports to China to include fruits and vegetables.
Chen said the two countries, which account for one-third of the global population, could also cooperate in other areas.
"Down the track, the two sides can look at cooperation in the hydropower, tourism, finance, education and medical sectors," he said.
The two governments should encourage two-way investment and the exchange of skilled professionals, he said.
The summit, held by China's international trade council, drew 600 company representatives from the two nations, including Sinosteel, Tata Group and ArcelorMittal SA.
China is the second largest trade partner of India, while India is China's 10th largest. Investment between the two countries is increasing, with more contracted projects.
"We are making efforts to expand and deepen economic and trade ties between China and India. We also hope to develop new ways of cooperating," Vice-Premier Hui Liangyu said.
That would benefit not only the 2.4 billion people in the two countries, but also contribute to Asian and world peace, Hui said.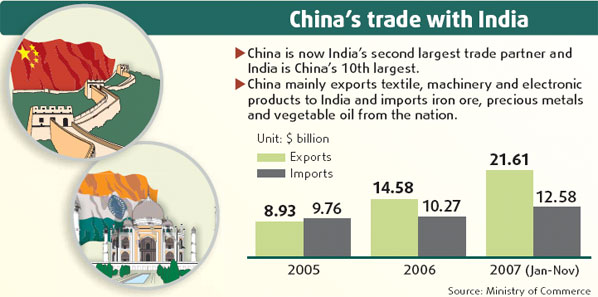 (China Daily 01/15/2008 page13)