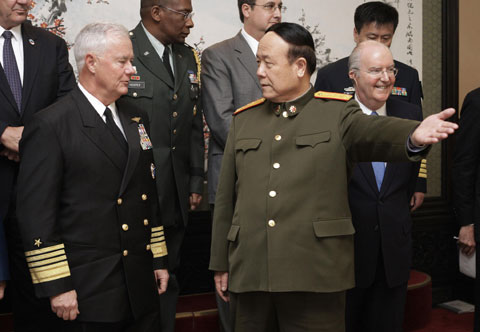 U.S. Navy Adm Timothy Keating (L), commander of the U.S. Pacific Command, is welcomed by China's General Guo Boxiong upon his arrival at the Ba Yi Building in Beijing January 14, 2008. [Agencies]
China will not tolerate "Taiwan independence" and never allow anyone to separate the island from Chinese territory in any name or any way, the vice-chairman of the Central Military Commission said Monday.
General Guo Boxiong made the remarks during a meeting with visiting US Pacific Command commander-in-chief Timothy Keating in Beijing.
Related readings:



 Military official urges US not to send wrong signal to Taiwan


 China urges US not to send wrong signal to Taiwan


 US admiral's visit to boost ties


 US Pacific commander starts four-day China visit
Urging Washington to stop arms sales to Taiwan and sever military links with the island, Guo also told the admiral that the US should not send wrong signals to the Taiwan authorities.
China hopes that the US will work with the Chinese to safeguard peace and stability in the region, Guo said.
Reaffirming that the US administration remains committed to the one-China policy, Keating said the Pacific Command is concerned over the cross-Straits situation and will carefully deal with possible factors that may disrupt stability across the Straits.
Keating, who arrived in Beijing on Sunday on his second visit after taking command in March last year, also met with General Chen Bingde, chief of the General Staff of the People's Liberation Army, and Foreign Minister Yang Jiechi.
Yang urged the US to help maintain stability in the Taiwan Straits, saying "it was the key to developing bilateral relations".
"The Chinese side appreciates the US administration's adherence to the one-China policy and its opposition to the Taiwan authorities' attempt to hold a referendum on UN membership," Yang said.
Taiwan leader Chen Shui-bian is pushing for a March referendum on the island's bid for UN membership - a move that is considered to unilaterally change the status quo across the Straits.
General Chen told Keating said the Taiwan question is the most important and sensitive "core issue" in Sino-US relations.
Since Keating's visit in May last year, the two militaries have maintained regular exchanges. US Defense Secretary Robert Gates visited China in November and the China-US annual defense consultative talks were held the next month in Washington.
This morning, Keating is scheduled to have a discussion with researchers at the Chinese Academy of Military Sciences before flying to Shanghai. He will later visit Guangzhou, where he will tour PLA military institutions and bases.