Indian Prime Minister Manmohan Singh said in Beijing Sunday that the city's preparations for the Olympics is a source of inspiration for India, which will host the 2010 Commonwealth Games.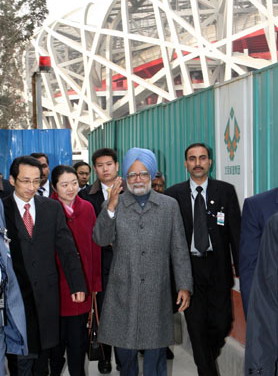 Indian Prime Minister Manmohan Singh (2nd R) walks past the National Stadium of China, nicknamed the Bird's Nest, in Beijing, January 13, 2008. Singh visited an exhibition center showcasing scale models of China's Olympic venues after he arrived in Beijing on Sunday morning. [Xinhua] 
Singh made the remarks while visiting an exhibition center near the National Stadium, the Bird's Nest, in the north of the Chinese capital. The center showcases scale models of the Bird's Nest, "Water Cube", or the National Aquatic Center, and other Olympic venues.
Singh, wearing a blue turban and clad in a grey overcoat, was accompanied by vice mayor of Beijing Chen Gang, who has escorted many foreign heads of state, including French President Nicolas Sarkozy, to the Olympic stadiums.
The prime minister nodded in agreement when Chen said the use of the venues after the Olympics should be considered, especially in heavily populated countries such as China and India.
Singh said the infrastructure and other work Beijing has done for the Olympics merit attention from the Indian people in preparing for big events like the Commonwealth Games.
After the visit, Singh wrote in the guestbook: "On behalf of the government and people of India, I extend my best wishes for the success of the Olympic Games in Beijing. I hope that the Olympic spirit and warmth of the great city of Beijing will promote friendship, peace and understanding among all participants and countries they represent."
Singh arrived in Beijing on Sunday morning for his three-day trip to China, the first since he took office in 2004.
President Hu Jintao and top legislator Wu Bangguo will meet with Singh. Premier Wen Jiabao will hold talks with Singh.