TEHRAN - Supreme Leader Ayatollah Ali Khamenei said on Saturday the United States would not be able to bring Iran to its knees in a row over sensitive nuclear work the West suspects is aimed at making bombs.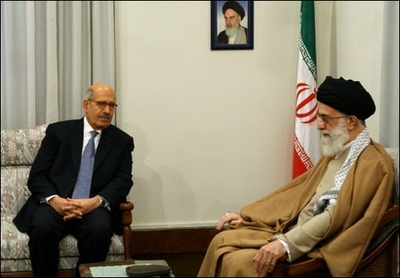 UN nuclear watchdog chief Mohamed ElBaradei(L) holds talks with Ayatollah Ali Khamenei. ElBaradei has met Iranian leaders on a visit aimed at persuading Tehran to intensify cooperation with his agency over its contested nuclear programme. [Agencies] 
Khamenei also told the visiting head of the UN nuclear watchdog that Iran's nuclear file should be handled by the International Atomic Energy Agency not the UN Security Council, which has imposed two rounds of sanctions on Tehran.
"There is no justification for Iran's case to remain at the UN Security Council," official media quoted Iran's most powerful figure as telling IAEA head Mohamed ElBaradei.
Related readings:



 IAEA chief meets Iran leaders on atom cooperation


 US sends formal protest to Iran over incident


 Iran releases own video of US Gulf incident


 Iran says its first atom plant to start in mid-2008
ElBaradei met Khamenei and President Mahmoud Ahmadinejad during a two-day visit to Tehran to push for more cooperation in resolving questions about Iran's atomic activity, which the United States fears will be used to make warheads.
His visit coincides with fresh Iranian-US tension over a naval incident in Gulf on Sunday. Washington says its ships were threatened by Iranian craft, Tehran calls it a routine contact.
It was not immediately clear what, if any, concrete results were achieved during ElBaradei's first trip to Iran since 2006.
The IAEA chief told reporters on Friday he was looking forward to "accelerated cooperation" from Iran.
The official IRNA news agency quoted him as telling Khamenei on Saturday: "In recent months there has been good cooperation between Iran and the agency to clarify Iran's activities."
"Pressuring Iran"
President George W. Bush is also visiting the Middle East this week to seek Arab support in reining in Iran and has repeated his assertion that Iran was a "threat to world peace."