TEHRAN -- Iran released a video on Thursday which it said showed its boats did not threaten US navy vessels in the Gulf, countering Washington's account of the event which President George W. Bush called "a provocative act".
The video, aired by Iran's Press TV satellite station, gave a completely different version of Sunday's incident in the Strait of Hormuz compared with one released earlier this week by the US Department of Defense.
Press TV said the video, released by Iran's Revolutionary Guards a day after the force dismissed the Pentagon video as fake, included a recording of what it said was the exchange between the two sides.
Guards Brigadier General Ali Fadavi said the Iranian boats had only approached the US ships to examine their registration numbers, Press TV said.
The video showed an Iranian naval officer in a small craft speaking via radio to a ship which could not be clearly identified.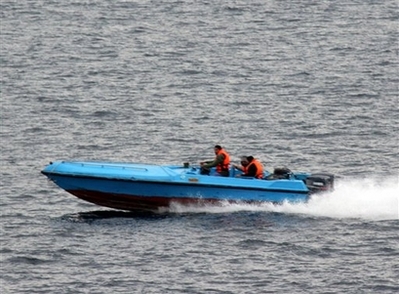 This image released by the US Navy Tuesday, Jan. 8, 2008, and shot Sunday, Jan. 6 from the bridge of the destroyer USS Hopper, shows a small blue boat, alleged to be Iranian, purportedly racing near the wake of US Navy ships in the Persian Gulf. [Agencies]
"Coalition warship 73 this (is an) Iranian navy patrol boat," the officer said in accented English.
"This is coalition warship 73. I read you loud and clear," the person replied in what seemed to be an American accent.
Related readings:


 US dismisses Iran's claim on fabricated video


 Iranian TV: Pentagon video, audio fake


 Transcript of Iran-US Navy clash


 Pentagon says ships harassed by Iran
The Iranian officer then asked for the ship to identify itself, though his words at times were indistinguishable:
"Coalition warship 73 this (is) Iranian navy patrol boat, request side number ... operating in the area (at) this time."
In contrast, the Pentagon video included a voice from a US ship informing one of the small craft that it was "straying into danger and may be subject to defensive measures".
The craft responded: "You will explode after ... minutes," according to the video.
The incident was the latest sign of tension between Washington and Tehran, at odds over Iran's nuclear programme and who is to blame for the violence in Iraq.
US President George W. Bush warned Iran on Wednesday of "serious consequences" if it attacked US ships in the Gulf and said all options were on the table.
The Strait of Hormuz handles 17 million barrels per day of water-borne crude oil, over a third of total global shipments.