JERUSALEM; and Ramallah, West Bank - While United States President Bush stood in Ramallah Thursday speaking of plans for a way out of the conflict that defines daily life for millions of Palestinians, many of the people he hoped to convince that a peace deal with Israel is on the horizon simply dismissed his promises as kalam fadi – empty words.
Not far from the Palestinian Authority offices where Mr. Bush met President Mahmoud Abbas, men sat huddled at a popular local cafe watching the two stand side by side for the first time on Palestinian soil.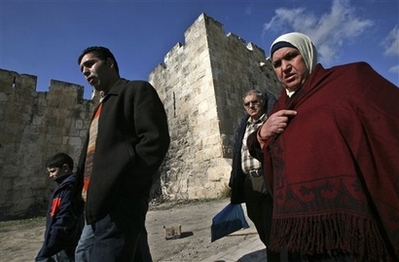 Palestinians are seen after prayers in east Jerusalem's Old City, Friday Jan. 11, 2008. US President George W. Bush said Friday on his departure from Israel to Kuwait that he would return to the Mideast in May to continue pushing the Israelis and Palestinians toward a peace treaty. [Agencies]
"For us, the Bush visit failed even before he arrived. This visit worked in favor of Israeli interests, not for the Palestinians," says Khader Dibs, a middle-age father and manager of the local sanitation office who was among many who sat watching the speeches on new flat-screen television hanging on the wall, which turns the Abu Kheir Cafe in the Shuafat Refugee Camp into something of a town square. Men came to discuss the politics of the day and women stopped in to eavesdrop while they picked up a tub of the freshest hummus in town.
Palestinians here say they wish Bush would come to their neck of the woods, too, to see what it means to have their freedom of movement constantly curtailed.
"Our whole life is waiting at checkpoints. It's a humiliation," Mr. Dibs says. "I didn't hear Bush talk about Israel's recent assassinations, incursions, and killings, either. The money spent on his visit would have been better spent on development."
Dibs's views were echoed by many average Palestinians Thursday as Bush pledged to see the signing of a treaty leading to a Palestine state before his term ends. His visit was the first US presidential visit to the PA headquarters in the West Bank, but few were impressed with the intended symbolism.
Shortly after a press conference between Bush and Mr. Abbas ended, an increasingly influential Islamist group arrived to share its take on the American push for a deal heard – a point of view that seemed to garner more interest.
The activist from Hizb ut-Tahrir (the Party of Liberation), an international Islamic movement, began passing out professional-looking photocopies of a statement denouncing Bush and discouraging Palestinians from putting any hope in peace with Israel.
Palestinians say Hizb ut-Tahrir, which argues that now is not the time to make jihad, or holy war, is beginning to gain in popularity against Hamas, the Islamist militants who won at polls here two years ago and recently wrested control of Abbas's Fatah faction in Gaza last summer.
Hizb ut-Tahrir's message has appeal, the men say, because too many here have long lost hope for the establishment of a Palestinian state: whether because they don't think Israel is serious about enabling that to happen, or because their own Palestinian brethren are not willing to compromise on their claims to what is now Israel proper.
And, because Bush's name is synonymous with the post-9/11 war on terror, many Palestinians treat the US president as if he's the last person who would be able to make Palestinian independence a reality.
"The whole world lost confidence in Bush after the Iraq war. We worry that what he did in Iraq, he'll do in Iran," says Abdul-Fatah Julani, another cafe patron.
A younger man chimes in: "He makes peace out of killing Muslims."
Just a few blocks away from Abbas's presidential compound, about 40 protesters chanted, "Bush, Bush, Out, Out" and "Palestine, Freedom, Freedom," before being chased away by billy-club swinging policemen.
Demonstrators complained that a curfew imposed by police officers on the residents of central Ramallah to secure the city for Bush had prevented more demonstrators from joining the protest.
"We are against everything that is happening in the Muqata," says Fares Fares, referring to Abbas's compound. "Bush won't stand with us. We don't like Bush because he destroyed the world – Iraq, Afghanistan, and Lebanon. And look how he's imposed a closure on Gaza."
Mustafa Barghouti, a Palestinian parliamentarian, tried to mediate between security forces and the demonstrators.
"The officer said we don't have a permit and that we shouldn't be in the streets," says Mr. Barghouti, who complained that the Palestinian casualties from Israeli attacks have doubled since the Annapolis, Md., peace conference that launched the peace initiative.
"We would be the first to be happy if this were a historic day, and if we achieve a Palestinian state. But the president of the United States of America must stop being biased toward Israel. We are not against the visit, but we are against the bias. We want [Bush] to become better," he says.
Though in the minority, some Palestinians say they did, in fact, detect an evolution in the American position toward the peace process. "This is not like the [President] Clinton visit, when he visited Gaza and was welcomed in the streets with his picture and American flags. The political weather is different now," says Hafez Barghouti, an editor of the daily newspaper Al-Hayat Al-Jedidah. "For the first time Bush spoke about the settlements as an obstacle to peace, and not just the illegal outposts. When the Americans talk about a Palestinian state and building the infrastructure for the Palestinian state, it's very important."
Barghouti also said he was encouraged by Bush's trip from Jerusalem to Ramallah. Heavy fog forced the president to forgo a helicopter and drive by the Israeli military checkpoints that frustrate Palestinians on a daily basis. At least, he remarked, the weather may have helped the Palestinian people.