India's rich cultural traditions have found their way into the hearts of the Chinese - through their stomachs.
With more than 20 restaurants specializing in Indian cuisine in Beijing alone, local restaurateurs report growing interest in all things India.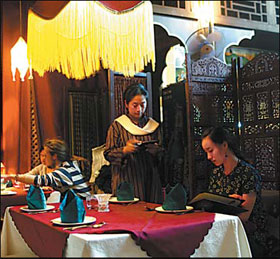 An Indian restaurant in Beijing. Zhang Wei
And while it was once mainly foreign expats and tourists who frequented these restaurants, Chinese now make up to 70 per cent of clientele.
Bheemarao Satish, manager of the Beijing outlet of the popular national Indian Kitchen chain, sees the restaurant as a sort of cultural bridge, where the culinary experience is often enhanced with displays of traditional song and dance by Indian performers.
"Actually, our role is for India, we are promoting our food and our culture to the Chinese people," says Satish, a native of Chennai, Southern India.
"Every day we are seeing more and more Chinese, and many times they are trying the food for the first time and enjoying it."
Indian Kitchen has expanded to 16 outlets across China since it was founded in Macao in 1990 by owner Antony Munuswany, also of Chennai.
Chen Jian, owner of Raj Indian restaurant and bar in Beijing, says 70 per cent of his clientele is Chinese.
"This shows that the ordinary Chinese want to know more about their Indian neighbors, and they think the gastronomy is a good start," says Chen, who opened his business in a redecorated courtyard in 2003.
Chen says his staff is happy to introduce Indian gastronomy to Chinese customers, who may have little knowledge of what comprises this exciting cuisine, besides curry.
"Indian food differs a lot from the Chinese cuisine. For example, fish are served as fillets in Indian, while the Chinese will keep the bones and head, which is thought to be the most precious and nutritious part," Chen says.
"Many Chinese customers wonder why they should pay so much for curried fish since they have no head."
Chen employs several Indian cooks, and frequently travels in India scouting for authentic seasonings.
Lin Qi contributed to the story
(China Daily 01/15/2008 page10)