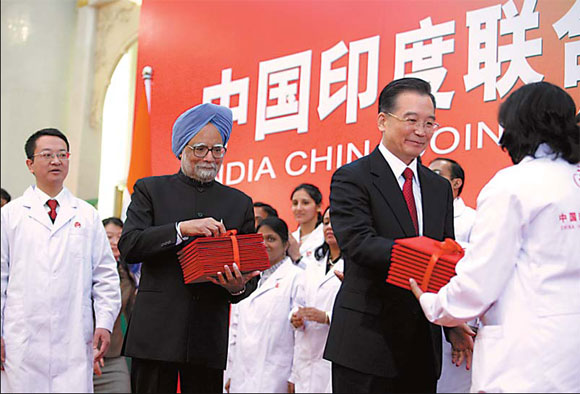 Premier Wen Jiabao and Indian Prime Minister Manmohan Singh (second from left) give out certificates to members of the China India Joint Medical Mission at yesterday's founding ceremony. Wu Zhiyi
The China India Joint Medical Mission (CIJMM) will provide free medical consultations and donate medicine to both countries' rural populations as a tribute to the memory of an Indian doctor who helped China 70 years ago.
Visiting Indian Prime Minister Manmohan Singh and his Chinese counterpart, Premier Wen Jiabao, helped inaugurate CIJMM at a special ceremony in the Great Hall of the People in Beijing yesterday.
The pair issued commemorative certificates to mission members before shaking hands with each of the 20 doctors from India and China.
They are now charged with perpetuating the spirit of cooperation first forged by Dr Dwarkanath Kotnis, an Indian doctor who came to China in 1938 and helped the country during the War of Resistance against Japanese Invasion.
"Singh kept saying, 'I am really happy with the joint mission,' when shaking my hand," the Third Hospital of Hebei Medical University's Dr Wang Qingxian, who could barely contain his excitement, told reporters.
Stretching beyond medical cooperation, the joint mission was also established with the hope of improving Sino-Indian friendship in future.
President Chen Haosu of the Chinese People's Association For Friendship with Foreign Countries (CPAFFC), the mission's initiator and organizer, believes the CIJMM will help bridge Chinese and Indian people.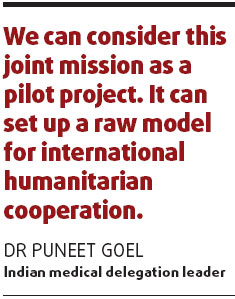 "It will further mutual understanding and respect between the two peoples," he tipped.
The CIJMM will first benefit rural populations in Hebei Province in north China in the following week, Dr Zhang Jinting, China's team leader, told China Daily.
"All the medical services offered by this joint mission in these kinds of regions will be free," said Dr Zhang Jinting, vice-president of the Second Hospital of Hebei Medical University.
"In some counties where medical conditions were extremely bad, members of the team will offer free home service and donate some medicines.
"The joint mission is also expected to visit India by the end of the year.
"Though this is only the first CIJMM, the second, the third, and more will follow up in the future."
Providing free medical service in the countryside also stands to "inspire" an international humanitarian spirit, according to Indian delegation leader Dr Puneet Goel.
"We can consider this joint mission as a pilot project. It can set up a raw model for international humanitarian cooperation," Goel told China Daily.
The CIJMM is not the first of its kind between India and China.
The CPAFFC also founded a Kotnis Joint Medical Team between India and China in 1996 to commemorate the medical pioneer.
"What Kotnis did 70 years ago was really commendable and we want to carry on with all that spirit," Goel told China Daily.
After arriving in China in 1938, Dr Kotnis died of illness in1942 at the age of 32.
He became the first director of the Dr Bethune International Peace Hospital based in Shijiazhuang, capital of Hebei province, and married a Chinese nurse in 1941.
In her eyes, Dr Kotnis endures as the young man who smiled at her at the hospital and held her hand for the first time after she gave him a sweater as a gift, 92-year-old Guo Qinglan recalls.
"I am so proud of him," she told China Daily in 2006.
(China Daily 01/15/2008 page10)