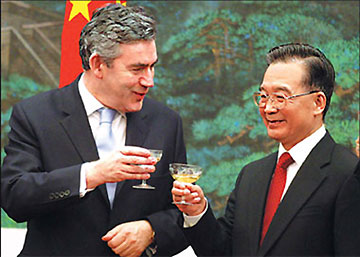 Premier Wen Jiabao and British Prime Minister Gordon Brown propose a toast during a signing ceremony in the Great Hall of the People in Beijing on Friday. [Agencies]
Visiting British Prime Minister Gordon Brown and Chinese leaders agreed on Friday to push forward a "comprehensive strategic partnership" that contains not only multi-billion-dollar trade deals but also closer cooperation on global challenges.
In a gesture showing Britain's embrace of Chinese capital, Brown offered London as the overseas base for China's $200 billion sovereign wealth fund despite some other countries' misgivings about the Chinese fund.
"This is a very substantial fund. It can be invested positively. I realize that in some countries it is controversial, but I have talked to Premier Wen Jiabao," Brown told reporters after a meeting with Wen.
"We want Britain to be the No 1 destination for China's business as it looks to invest around the world. Tens of thousands of jobs in Britain can be created through cooperation between our two countries," he said.
China Investment Corporation (CIC), the sovereign wealth fund, was founded last year to manage part of the country's $1.5 trillion in foreign exchange reserves.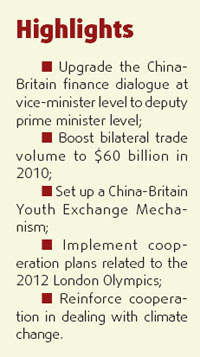 Wen said the operation of the sovereign fund will be "open and transparent", with no intervention from the government.
"The external operation of the fund will not be connected to politics," he said.
He said the CIC will have only $60-70 billion for overseas deals in the future, considering the investment it has made and the need for capital injection in planned State-bank reforms.
"As the Chinese saying goes, 'A tall tree catches the wind.' Although we are handling the issue cautiously, there are various opinions overseas, so I want to take this opportunity to make some clarifications," Wen said.
In a question-and-answer session with the public later on Friday, Wen went on to dismiss some Westerners' lingering worries over the so-called China threat, saying the country adheres to the line of peace while focusing on self-development, and has neither intention nor capability to threaten others.
"We have our hands full with our own affairs," he said.
Wen and Brown signed eight agreements involving almost $800 million to cooperate on education, climate change, renewable energy and the development of sustainable cities.
The leaders also agreed to raise bilateral trade to $60 billion by 2010 from around $40 billion at present.
In addition, the two sides agreed to upgrade the Sino-UK finance dialogue from vice-minister level to deputy prime minister level.
On the Darfur issue, Wen and Brown agreed that the role of the consultation mechanism, involving the United Nations (UN), the African Union (AU) and the Sudanese government as the main channel for solving the Darfur issue, should continue to promote UN-AU hybrid actions and the political progress in the region.
Special envoys of China and Britain will maintain close contact to push for a proper settlement at an early date, Wen said.
"Brown's first official visit to China is important to not only bilateral relations but also the stabilization of relations between China and Europe," Jin Canrong, deputy director of the School of International Studies at Renmin University of China, said.
"The visit could also be a pivot for Britain to foster a 'look East' approach alongside its traditional bonds with the United States, European countries and Commonwealth members," Jin said.
On Friday evening, President Hu Jintao hosted a dinner for Brown at the Diaoyutai State Guest House.