ISLAMABAD, Pakistan -- A 15-year-old boy detained near the Afghan border has confessed to joining a team of assassins sent to kill Benazir Bhutto, officials said Saturday, in the first arrest in the case since the murder of the Pakistan opposition leader.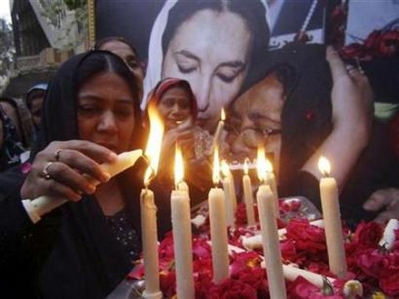 Supporters of slain Pakistani opposition leader Benazir Bhutto light candles during special prayers in Hyderabad, 160 km (100 miles) from Karachi January 15, 2008. Pakistani security agents have arrested a youth who said he had been trained as a suicide bomber to kill Bhutto had other militants failed to kill her, in the first arrests in the case, a security official said. [Agencies]
Benazir Bhutto Assassinated
Police also announced they had foiled new suicide attacks by militants against the country's Shiite minority.
Interior Secretary Kamal Shah confirmed the arrest of two people in the town of Dera Ismail Khan in North West Frontier province, and said one - a teenage boy - had confessed involvement in the December 27 attack that killed Bhutto. He said interrogators were trying to get corroborating testimony from the other detainee before accepting the confession.
In the far southern city of Karachi, meanwhile, the police chief said officers detained five men with explosives, detonators and a small quantity of cyanide intended for attacks on this week's Shiite Muslim festival of Ashoura.
"With these arrests we have foiled major attacks," said police chief Azhar Farouqi, adding that the militants may have wanted to put the cyanide into the municipal water supply.
Security officials elsewhere in the country said they had arrested at least 55 other terrorist suspects in a crackdown apparently sparked by a surge in rebel attacks along the restive border with Afghanistan and a spate of bombings targeting Shiites.
In North West Frontier province, a senior intelligence official said the 15-year-old suspect in the Bhutto assassination told investigators that his five-person squad was dispatched to Rawalpindi, where Bhutto was killed, by Baitullah Mehsud, a militant leader with strong ties to al-Qaida and an alliance with the Taliban in nearby Afghanistan.
The official, who asked not to be named because he was not authorized to speak to the media, said the boy was arrested Thursday and was also involved in a plot to attack Shiites during the Ashoura festival on Sunday.
Sunni extremists, who regard Shiites as heretics, often attack the community during Ashoura. On Thursday, 11 people died and 20 were injured in a suicide attack on a Shiite mosque in the northern city of Peshawar.
In Dera Ismail Khan, a town 240 kilometers (170 miles) southwest of Islamabad where the teenager was arrested, a district police commander said the suspect had made "a sensational disclosure." The officer also asked not to be named because of the sensitivity of the matter.
But Maulvi Mohammed Umar, a purported spokesman for Mehsud, dismissed the report. "We have already clarified that we are not involved in the attack on Benazir Bhutto."
Bhutto died when an assassin fired at her and detonated an explosive vest as she was leaving an election campaign rally. The blast killed at least 20 other people and wounded scores more.
The death of Pakistan's most popular opposition leader threw the country into turmoil and triggered riots that left more than 40 people dead. It forced the government to delay by six weeks parliamentary elections that had been set for January 8.
Bhutto, who had returned to Pakistan in October after spending nearly eight years in exile, had vowed to support tough military measures against Islamic militants who have used the border areas as staging points for infiltration into Afghanistan.
Separately, the army said in a statement it had found 5.5 tons of explosives hidden in a mosque in the Swat Valley, an area in the north of the country that it recaptured from the militants in December.