The China National Tourism Administration will pilot a project this year to select joint venture tour operators to handle some outbound business.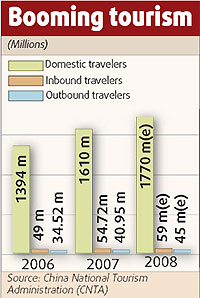 It is the first time that the administration has decided to open its outbound business to joint ventures and foreign investors.
Shao Qiwei, head of the administration, told a conference in Beijing on Friday that it will "steadily promote" the pilot project, and open the industry wider, but further details were not immediately available.
Foreign tour agencies and joint ventures are currently allowed to operate only inbound and domestic travel, and are barred from outbound business, which is the most lucrative part of the market.
Opening the outbound market is not part of China's commitments to the World Trade Organization.
But the opportunities offered by outbound travel have attracted many foreign operators to China, according to industry insiders.
In recent years, a few foreign tour firms attracted by China's huge potential have entered the country as joint ventures or solely funded branches. They insist on keeping their business in China, even though that means they earn little or have to suffer losses.
Positive signs began to emerge last year, when the tourism administration allowed Hong Kong and Macao-funded tour agencies to cater to mainland tourists in eight provinces and regions bound for the two special administrative regions, a decision that has not adversely affected domestic Hong Kong and Macao tour operators.
"There is no need to worry that opening outbound business to foreign firms may throw the market into disorder. Similar cases, such as allowing in foreign banks, have proven this will not occur," an industry insider said.
China's tourism sector is believed to have huge potential, as the World Tourism Organization forecast it would grow into the world's fourth-largest source of outbound tourists by 2015. By then, 100 million Chinese will travel overseas annually.
Last year, 40.95 million Chinese traveled overseas, up 18.6 percent from 2006.
The administration forecast that the number of outbound travelers is expected to increase 10 percent to 45 million this year.
"As our holiday system is improving, China will develop into an enormous tourist market. The outbound and domestic travel markets will both develop fast," Shao said.
Chinese tourists' outbound travel destinations have expanded from 20 in 2002 to the current 134 countries and regions.
The United States is the latest to open its door to China. The first group of Chinese tourists are expected to make trips there this spring.