WASHINGTON -- President George W. Bush called on Friday for a package of tax cuts and other measures totaling 140 billion dollars to fend off a possible recession.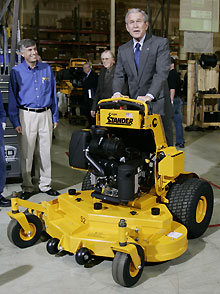 Co-founder and CEO of Wright Manufacturing Inc Bill Wright (L) watches as U.S. President George W. Bush drives a stand-on lawnmower during his tour of Wright Manufacturing, which makes the machines, in Frederick, Maryland January 18, 2008. [Agencies]
"This growth package must be big enough to make a difference in an economy as large and dynamic as ours, which means it should be about 1 percent of GDP," Bush said at a White House announcement.
In current terms, 1 percent of GDP would amount to more than 140 billion dollars.
As expected, Bush did not go into specifics. He laid out the principles and called for tax measures to give business an incentive to make major investments this year and direct tax relief for individuals.
"This growth package must be temporary and take effect right away so we can get help to our economy when it needs it most," he said.
Bush urged Congress to pass the temporary economic package that could be implemented quickly to "keep our economy growing and create jobs."
"Passing a new growth package is our most pressing economic priority. When that is done, Congress must turn to the most important economic priority for our country, and that's making sure the tax relief that is now in place is not taken away," said Bush.
"Our economy has a solid foundation, but ... there are areas of real concern," Bush said. "My advisers and many outside experts expect that our economy will continue to grow over the coming year, but at a slower rate than we have enjoyed for the past few years.
"And there is a risk of a downturn," Bush also conceded in his remarks.
The White House has said Bush and leaders of Congress from both parties held talks on Thursday to see if they can reach common ground on a plan to shore up growth.
Under consideration in the talks are ideas like tax rebates, incentives for businesses and extensions of unemployment insurance.
Some lawmakers said under Bush's plan, taxpayers could receive rebates of up to 800 dollars for individuals and 1,600 dollars for married couples.
On Thursday, Federal Reserve Chairman Ben Bernanke also backed calls for a fiscal package to stimulate economy, but stressed that such a plan should be quickly implemented and temporary so that it will not complicate longer-term fiscal challenges.
"Any program should be explicitly temporary, both to avoid unwanted stimulus beyond the near-term horizon and, importantly, to preclude an increase in the federal government's structural budget deficit," he said in testimony to the House Budget Committee.
The Fed chief did not embrace any specific provisions or a specific plan but made clear his support for the general concept of an economic rescue package. It is likely that any such package would include tax rebates.
Due to a severe housing slump and a persistent credit crunch, odds of a recession have been increasing. To bolster economic growth, the central bank has cut interest rates for consecutive three times by combined one percentage points and injected a huge amount of money into the banking system.
But Bush remained optimistic about the future of the economy, saying it has seen challenging times before, and it is resilient.
"In a vibrant economy, markets rise and decline. We cannot change that fundamental dynamic," he said. "By passing an effective growth package quickly, we can provide a shot in the arm to keep a fundamentally strong economy healthy."