WASHINGTON - US Senator Hillary Clinton won the Democratic Nevada caucuses Saturday, beating arch-rival Barack Obama in a hard-fought race, while former Massachusetts Governor Mitt Romney won a land-slide victory on the Republican contest.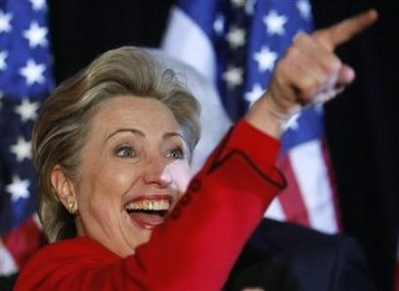 US Democratic presidential candidate Sen. Hillary Clinton (D-NY) points to supporters before she gives a victory speech after winning the Democratic caucuses in Las Vegas January 19, 2008. [Agencies] 
With 79 percent of precincts reporting, Hillary has 51 percent of the vote, compared to 45 percent for Barrack Obama, her arch- rival.
John Edwards came in with a remote third place, grabbing only 4 percent of the votes.
Clinton's victory continued a comeback she began in New Hampshire on January 8 and gave her momentum going into the South Carolina primary a week away from now.
Obama's loss in Nevada was his second in a row and came despite support from the state's most powerful union.
The Nevada Democratic contest was intense, despite the absence of negative television commercials.
On the Republican side, with 38 percent of the precincts reporting, Romney won 53 percent of votes, followed by John McCain and Ron Paul, who tied in a second place with 13 percent of votes each.
Romney said party supporters had cast their votes for change - and he was the man to provide it.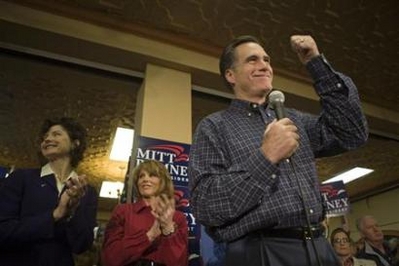 US Republican presidential candidate and former Massachusetts Governor Mitt Romney (L) speaks at a campaign stop in Reno, Nevada, January 18, 2008. [Agencies]
"With a career spent turning around businesses, creating jobs and imposing fiscal discipline, I am ready to get my hands on Washington and turn it inside out," he said in a statement issued while he flew to Florida, site of the January 29 primary.
In fact, the Republican caucuses drew relatively little candidate interest in Nevada.
Nevada Republicans said the economy and illegal immigration were their top concerns, according to preliminary results from surveys of voters entering their caucuses. Romney led among voters who cited both issues.
Mormons gave Romney about half his votes. He is hoping to become the first member of his faith to win the White House.
Alone among the Republican contenders, Congressman Ron Paul of Texas aired television ads in Nevada.
The Republicans are also casting votes in South Carolina primary Saturday, and the results will come out later.
Nevada offered more delegates -- 31 versus 24 -- but far less appeal to the Republican candidates than South Carolina, the primary that has gone to the party's eventual nominee every four years since 1980.
Nevertheless, a victory in Nevada is likely to add momentum to the campaign of the winners.