Chinese stocks suffered the biggest drop this year, nose-diving more than 5 percent, amid growing fears over the fallout from a slump in US economy.
The benchmark Shanghai Composite Index plummeted 5.14 percent to 4,914 points, after hitting as low as 4,891.29. The Shenzhen Composite Index lost 4.62 percent to 1,448.17. The CSI 300 index of major companies in the two bourses declined 4.96 percent to 5,145.84.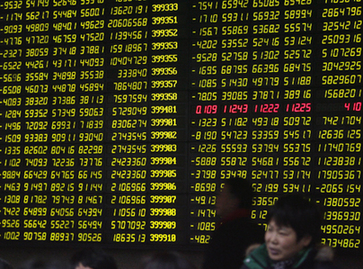 People stand in front of an electronic board at a stock exchange in Nanjing, Jiangsu province January 21, 2008. China's stock market plunged on Monday in response to another tumble by Hong Kong share prices and news of heavy cash calls. [Agencies]
The sell-off came as investors are increasingly worried about the impact of a potential US recession on the Chinese economy.
Fears are mounting in the United States that the sub-prime crisis might pull the country's economy into a recession, prompting President George W. Bush to call for up to $150 billion in tax relief for consumers and business to boost the economy.
China's exports will be badly hit if consumer demand weakens in the US – a major destination for Chinese exports, Zhang Tao, deputy head of the international department of the People's Bank of China, told a financial forum during the weekend.
A drop of 1 percentage point in US economic growth would shave 1.3 percentage points from China's growth rate due to lower exports, Citigroup estimates.
Special coverage:
Stock Market
Related readings:


 China is not decoupling from US economy


 Bush calls for over $140 bln tax relief to avert recession


 10% of new investors never thought of stock losses


 China's bullish stock market may undergo correction


 Regulators plan risk education for stock investors


 Stock markets take in 830.6b yuan in banner year of IPO mania
Also weighing on investors' mood is the "tight" monetary policy adopted by policymakers to prevent the world's fourth largest economy from overheating and to tame inflation.
China's economy grew 11.5 percent in the first three quarters of 2007 and inflation jumped to an 11-year high of 6.9 percent in November. Figures for the whole year will be released on Friday.
As a sign of monetary tightening, the central bank announced earlier this month a 0.5 percent hike in the reserve ratio for banks to 15 percent, the highest level in 20 years. That was the 11th such moves, in addition to six interest rate hikes since the start of 2007.
The shift from a decade-old "prudent" monetary policy will reduce the amount of money available for stock investment and increase the borrowing cost for listed firms, thus eroding their profitability.
Ninety percent of the yuan-denominated A-shares in Shanghai and Shenzhen posted losses, with financial shares the biggest losers.
Ping An Insurance of China suffered a 10 percent daily limit down to 88.39 yuan, while its rival China Life plummeted 8.76 percent to 48.22 yuan.
China Merchants Bank, the country's biggest credit card issuer, fell 6.70 percent to 37.04 yuan, while the biggest lender, the Industrial and Commercial Bank of China dropped 3.82 percent, the smallest drop in percentage for banks on Monday.
Other heavy-weights in Shanghai and Shenzhen also hit hard. PetroChina, the country's biggest oil and gas producer, and Asia's largest refiner, Sinopec both tumbled 5.53 percent.
China Merchants Property Development Co. dived 9 percent to 55.99 yuan, followed by a 6.61 percent drop in China Vanke to 26 yuan.