Want to know when and where the product you just bought was made, or whether or not it is authentic? Visit the website www.95001111.com and type in the trace code.
Alternatively, call 95001111, or visit any of the designated "service terminals" in stores and supermarkets.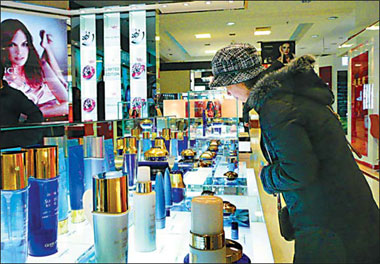 A customer browses for cosmetics at a store in Ningbo, Zhejiang province. [China Daily]

This is the new electronic identification, authentication and tracking system being promoted by the country's top quality watchdog - the General Administration of Quality Supervision, Inspection and Quarantine (AQSIQ).
From June, nine categories of products, including food, cosmetics, home appliances and farming materials, will have to carry identification and tracking codes or they will not be allowed to be sold, according to a circular jointly issued by the AQSIQ, Ministry of Commerce and State Administration for Industry and Commerce.
Released yesterday, the circular said the system will cover all products by the end of 2010.
AQSIQ Minister Li Changjiang said the development of the system is another major step in ensuring product quality.
"It can trace the whole production and circulation process," he said.
"If any problem occurs, law enforcement officers can take countermeasures in the shortest period of time."
Chen Xiaoying, deputy director of the system's promotions office, said the system also safeguarded consumers' rights to know about their purchases.
She said the system already covers more than 700 million products from 30,000 companies across the country, and is expanding rapidly.
"We're now busy installing service terminals in stores and supermarkets," she said.
Quality control officers yesterday demonstrated how the terminals work in a pilot store in Beijing's Chaoyang district.
As soon as a cashier scanned a product's tracking code information about it, including a picture, its name, producer, production date, expiry date, batch number, seller and price, appeared on screen.
If there is anything wrong, such as if the product has expired, it cannot be sold and an alarm will ring.
Also, reports of any prohibited products are automatically transmitted to the local quality control authorities.
Once a product has been labeled as substandard in the system, all products with the same batch number will be blocked from further circulation nationwide.
Wang Xiaojuan, a shopper who watched the demonstration, said the system boosted her confidence in the country's product quality.
"In the future, I'll pay attention to whether or not products have a code," she said.