GAZA -- Mohamed Nasrallah joined in a long queue outside a Gaza bakery to buy a package of breads worth US$2.5 on Sunday, as Israel has closed all Gaza Strip crossings and barred fuels, basic food supplies and medicine into the poor and densely populated enclave.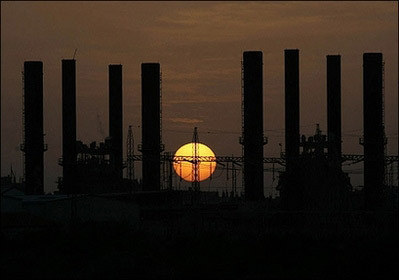 The sun sets behind the main Palestinian electricity company, Al-Nuseirat, in the central Gaza Strip. Gaza's only power plant shut down for lack of fuel on Sunday as Israel kept up a blockade of the Hamas-run territory in retaliation for rocket fire. [Agencies]
Nasrallah, a 45-year-old father of four, exchanged anger with his countrymen in the queue over the ongoing deteriorating situation in the Gaza Strip amid a major severe humanitarian crisis expected within the coming hours, due to the shortage of fuel, electricity and food.
Gaza's only electrical plant announced on Sunday that it would shut down later in the day after an Israeli border closure blocked the entry of fuel that powers it.
In coordination with the Israeli government, Defense Minister Ehud Barak decided on Friday to close all Gaza Strip crossings, barring fuels to operate the Gaza power plant, fuels for gas stations as well as major food products and medical supplies.
"We were told that there will be no fuels for Gaza at all, and we don't know what to do," said Nasrallah, adding "this means that life will completely stop in every house, every factory, every street and every hospital."

The Palestinian Union of Gas Stations announced that around 180 gas stations all-over the enclave had closed down due to shortage of fuels, while the Palestinian Council of Industry said that 3,900 factories closed down "because they don't have electricity or fuel to operate their electric generators."

Chief of the Palestinian Committee to Confront Closure, Jamalal-Khudari, expected that Gaza Strip would witness the first ever humanitarian crisis "if Israel continues closing the Gaza Strip and barring fuels for operating the main Gaza power plant."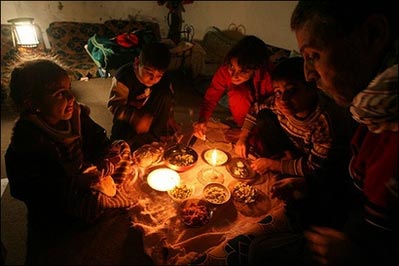 A Palestinian family eats by candlelight, in Rafah, in the southern Gaza Strip. [Agencies]
"We call on the world, on the Arabs and Muslims to do whatever they can in order to exert pressure on Israel to stop this policy of punishing and eliminating 1.5 million Palestinians," said al-Khudari.
He said that the whole life in Gaza will stop, "if there are no fuels for Gaza power plant and for vehicles. Consequently, Gaza Strip will sink into darkness, where hospitals, clinics, factories, bakeries ... everything will stop."
Gazans have been living with fuel cutbacks, power and supplies shortages for months. The power plant provides a third of the electricity for the territory's residents, thus the shutdown would largely affect the 400,000 people in Gaza City, which houses the territory's main population.