Jerusalem -- Israel has closed all border crossings into Gaza, cutting off food and humanitarian supplies to the coastal strip in a bid to pressure its Hamas rulers to stop a barrage of rocket attacks on Israeli towns, defense officials said Friday.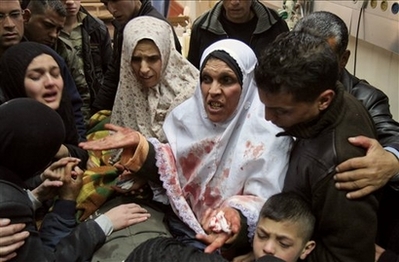 Palestinians react over the body of their relative, Al-Aqsa Martyrs commander Ahmad Sanakra, 24, killed by the Israeli army in a military operation in the Balata refugee camp, near the West Bank town of Nablus, January 18, 2008. [Agencies]
Ten rockets slammed into southern Israel on Friday, one damaging a day care center in the town of Sderot and another hitting Ashkelon, a town of 120,000 people. No injuries were reported.
Israeli aircraft fired on rocket launchers in northern Gaza in retaliation. Hamas security officials said two Palestinians were killed -- a Hamas militant who had just fired rockets and a 17-year-old civilian who apparently was an onlooker.
The rocket attacks escalated following an Israeli anti-rocket raid in Gaza that left 19 Palestinians dead Tuesday, including the son of a prominent Hamas leader.
About 20 trucks of food scheduled to enter Gaza on Friday would not be allowed through, said Defense Ministry spokesman Shlomo Dror. The crossings are routinely closed Saturdays, and may not be reopened Sunday morning if the rocket fire continues, he said.
The territory, home to 1.4 million Palestinians, receives food and humanitarian supplies from Israel and aid organizations.
"It's time that Hamas decide to either fight or take care of its population," Dror said. "It's unacceptable that people in Sderot are living in fear every day and people in the Gaza Strip are living life as usual."
Israel has maintained a blockade on Gaza since Hamas violently seized the territory in June, but continued to allow in basic food items and humanitarian supplies. With those now cut off, life is certain to become more difficult for Gaza's already impoverished residents, who have suffered from erratic supplies of some food, fuel, spare car parts, computer paper and goods.