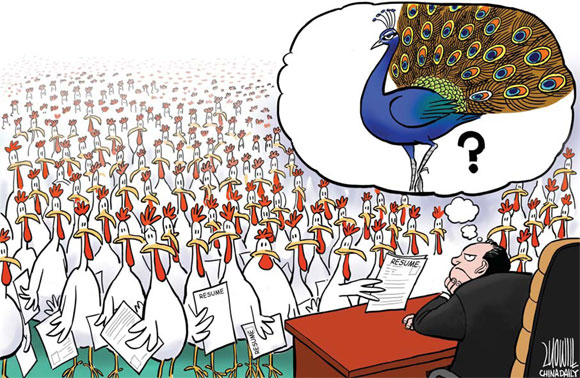 Whenever Jurgen Togotzes is asked why he chucked his job, he counters with another question: "Do you think China's talent pool can cope with its economic growth rate?"
That's why Togotzes, who was the vice-president of Burson-Marsteller, a leading global public relations firm, gave up his job last year to start a PR training academy, the first of its kind in the nation. After witnessing China's brisk development first-hand for many years, Togotzes realized the potential market for PR professionals is immense.
Related readings:



 Financial talent lags behind big dreams


 A case of overlooked talent


 Firms start matchmaking staff to retain talent


 Talent on tap


 Shenzhen eyes top overseas talent


Tale of talent


Talent shortage makes MBAs feel like MVPs in China
China's PR industry has actually been growing at 30 percent a year, aided by the entry of an increasing number of multinationals and domestic enterprises' efforts to venture out, both creating a growing need for people who can help companies carve out a presence in unfamiliar terrain.
More is better
"The challenge is, can the industry find and develop the talent it needs fast enough to cope with the demand and at the same time maintain and, more importantly, improve their present level of performance?" asks Togotzes. "I strongly believe the PR industry would have grown even faster had there been enough professionals around."
A talent crunch is not limited to the PR industry. It's a general malaise afflicting the entire economy, despite plentiful numbers of recent university graduates. Statistics from the Ministry of Education show the number of graduates jumped from 1.14 million in 2001 to 2.8 million in 2004 and 4.96 million last year. It's predicted that in 2008, it will hit an all-time record of 5.32 million.
"This year is going to be challenging. We will have some 20 million people in the labor market seeking jobs, the biggest ever in history," says Zeng Xiangquan, dean of School of Labor Relations and Human Resources with Renmin University of China.
A recent report by the Chinese Academy of Social Sciences predicted the economy would continue to enjoy strong growth in 2008. It said China's gross domestic product is projected to grow by 10.2 percent to reach 27.93 trillion yuan this year . Yao Jingyuan, chief economist of the National Bureau of Statistics, says the economy grew by 11.5 percent last year.
Given the robust growth environment, mainland employers across the board - especially the service sector - are upbeat about their recruitment plans for the first quarter of 2008, according to a recent survey conducted by Manpower, a world leader in employment services industry.