Concern about privacy and monitoring device management is drawing great public debate after a video of a couple kissing at a Shanghai subway station entrance was posted on a website and became an instant hit.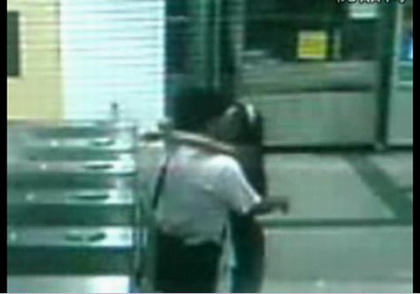 A screen picture captured from an undated video on a public video website  shows a couple kissing at a Shanghai subway station entrance. [Youku.com]
The three-minute video received more than 10,000 hits after it was posted on the Internet on Monday. It captured the twenty-something couple, unaware of the camera, in a moment of passion.
"The behavior of the couple at the public venue was somewhat improper, but it was rather embarrassing for the video to be posted on the Internet," said Shanghai resident Deng Ke.
Subway authorities said they were investigating whether the video was made by subway staff using the monitoring cameras.
The monitoring system was installed in accordance with subway operation regulations, said a source from Shanghai Shentong Metro Co. Ltd, which runs the subway stop where the video was suspected to be shot.
"If it was really done by workers, the subway company will seriously deal with those involved and improve interior education and management," the source said.