Tokyo - Asian and European stock markets plunged Monday following declines on Wall Street last week amid investor pessimism over the US government's stimulus plan to prevent a recession.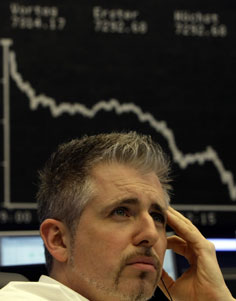 A trader is pictured in front of the DAX board at the Frankfurt stock exchange January 21, 2008. German Economy Minister Michael Glos said on Monday Europe's biggest economy was in good shape and there was no reason for pessimism despite a drop of around 5 percent in Germany's DAX index of leading shares. [Agencies] 
India's benchmark stock index tumbled 7.4 percent, while Hong Kong's blue-chip Hang Seng index plummeted 5.5 percent to 23,818.86, its biggest percentage drop since the Sept. 11, 2001, terror attacks.
Investors dumped shares because they were skeptical that an economic stimulus plan US President Bush announced Friday would shore up the economy, which has been battered by housing and credit problems. The plan, which requires approval by the US Congress, calls for about US$145 billion worth of tax relief to encourage consumer spending.
Concerns about the outlook for the US economy, a major export market for Asian companies, has sent the region's markets sliding in 2008. Just last Wednesday, the Hang Seng index sank 5.4 percent.
"It's another horrible day," said Francis Lun, a general manager at Fulbright Securities in Hong Kong. "Today it's because of disappointment that the US stimulus (package) is too little, too late and investors feel it won't help the economy recover."
Japan's benchmark Nikkei 225 index slid 3.9 percent to 13,325.94 points, its lowest close in more than 2 years. China's Shanghai Composite index plunged 5.1 percent.
The sell-off continued in Europe. Germany's DAX was down 4.2 percent in morning trading, France's CAC 40 slid 4.7 percent, while Britain's FTSE 100 dropped 3.6 percent.
"People are certainly nervous about a potential recession in the US spilling over to the rest of the world," said David Cohen, Director of Asian Economic Forecasting at Action Economics in Singapore.
"Maybe there's still some wariness about politicians are able to come up with a compromise and act sufficiently quickly" on a stimulus package, Cohen said. "I think the impact would be marginal anyway."
Investors took cues from the negative reaction to the US president's plan on Wall Street on Friday, when the Dow Jones industrial average slid 0.5 percent to 12,099.30, bringing its loss for the year so far to nearly 9 percent.