Gaza City -- Gaza City awoke Monday to shuttered bread shops and gas stations, prompting fears of a humanitarian crisis as Israel pressed ahead with efforts to stop Palestinian rocket fire, refusing to reopen crossings or allow in crucial fuel supplies.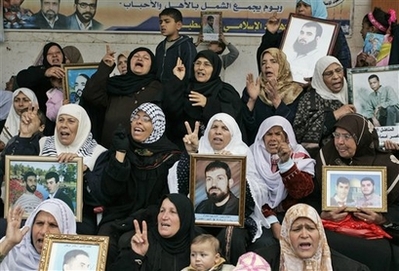 Palestinian women chant slogans and hold pictures of prisoners held in Israeli jails during the weekly protest calling for their release, outside the International Red Cross building in Gaza City, Monday, January 21, 2008. [Agencies] 
Children marched through dark streets holding candles, an angry Hamas TV announcer shouted at the camera "We are being killed, we are starving!" and Palestinian leaders issued emotional pleas for national unity. Israel accused Gaza's Hamas rulers of fabricating a crisis to gain world sympathy.
Electricity officials shut down Gaza's only power plant just before 8 pm Sunday, Gaza Energy Authority head Kanan Obeid said.
Health Ministry official Moaiya Hassanain warned the fuel cutoff would cause a health catastrophe. "We have the choice to either cut electricity on babies in the maternity ward or heart surgery patients or stop operating rooms," he said.
Gaza bakeries stopped operating because of the blockade, bakers said, because they had neither power nor flour. Residents of the impoverished strip, which has a population of some 1.5 million, typically rely on fresh pita bread as a main part of their diet.
Waiting in a line at the only open bakery for miles around, Mohammed Salman said he had spent far more on a taxi getting to the shop than he would on bread.
"I'm going to buy something that my family can keep for only two days because there is no electricity and no refrigerator," Salman said. "We cannot keep anything longer than that."
In addition to the fuel it receives from Israel to power its electrical plant, Gaza gets about 70 percent of its electricity directly from Israel -- and that has not been stopped, Israeli officials said.
The power plant supplies most of the remaining electricity, and Israeli officials acknowledged that the fuel used to supply it has been stopped.
Israeli Defense Ministry spokesman Shlomo Dror said Israel would "do everything" to prevent a humanitarian crisis in Gaza.
But Dror suggested that the crossings would not be opened in the coming days, saying that a reduction of rocket attacks this week was not enough to bring about the lifting of the blockade. The army said five rockets were fired on Sunday, down from 53 in the two previous days.