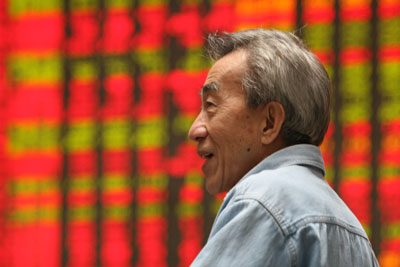 An investor smiles before an electronic board showing stock information at a securities firm in Xiamen, East China's Fujian Province March 20, 2007. [newsphoto]


China's benchmark stock index Tuesday hit new highs for the eighth consecutive session on bullish investor confidence, strong growth in corporate earnings, and return of funds after failing to procure new shares.
The Shanghai Composite Index, the most widely watched indicator of the mainland stock market, ended 50.93 points higher at 3,495.22. The index has grown 30.64 percent this year after surging 130 percent last year.
The Shenzhen Composite Index, which tracks the smaller of the mainland's bourses, gained 1.05 percent to 928.28 while the Shanghai and Shenzhen 300 index of major companies rose 1.28 percent to 3121.14.
Special coverage:
Stock Market

Related readings:
Blue chips push stocks to new high
China stocks at new high after seesaw session
China stocks hit new high on investment fever
China stocks hit record high
Funds investment fever runs high in China
China faces liquidity, inflation pressure
Asian stocks plunge after US sell-off
US stocks plummet on lender woes
Central banker downplays market swings
Don't blame China for falling markets
Chinese unfazed as share markets tremble
Stocks fall as Ping An debuts
Stock plunge: Capitalism 101 for investors
Stocks recovered from record plunge
Stocks nosedive after record high close
The rise came as listed companies posted strong earnings. As of Tuesday, more than 821 firms have released their annual report in 2006, registering an average of 38.18 percent growth in net profit, statistics showed.
China Petroleum & Chemical Corp. better known as Sinopec, Tuesday reported a 30 percent rise in net profit in 2006 on strong domestic fuel demand and weaker crude oil prices.
The net profit of Asia's largest refiner by capacity totaled 53.9 billion yuan ($7 billion) in 2006, up from 41.5 billion yuan in 2005.
The repeated hitting of new highs also found strength from the bullish sentiment of the Chinese investors who threw themselves into lines to open accounts at securities firms.
A record high of 194,513 A-share accounts were opened Tuesday, breaking the record of 188,477 set just the previous day, according to statistics from the China Securities Depository and Clearing Corporation Limited.
Tuesday represented the 22nd day in a row that saw the opening of more than 100,000 accounts. That compared with an average of 4,700 newly added accounts each day in 2005 when the market was in a bearish run.
Tuesday also witnessed the opening of nearly 36,000 fund accounts after an addition of 30,000 on Monday. By 3:00 pm Tuesday, the number of accounts in the Shanghai and Shenzhen stock exchanges has topped 88.45 million, according to the statistics.
The stocks were boosted by money returned to investors who failed to obtain shares in five small caps launched last week. A total of 1.024 trillion yuan were frozen, earlier reports said, including 950 billion yuan from retail investors, a record high for the amount of frozen retail investor capital.
Financial share performed well. China Merchant Bank surged 6.28 percent to 19.13 yuan while China Life gained 2.83 percent to 37.17 yuan.
Other big caps also staged strong performance. Sinopec rose 7.1 percent to 11.32 yuan and Huaneng Power International grew 5.47 percent to 10.22 yuan. China Vanke, the country's largest publicly traded property developer, posted a 6.58 percent growth to 18.63 yuan.
Trading in Shanghai also reached a record high of 156.208 billion yuan while turnover in the Shenzhen Stock Exchange stood at 82.512.