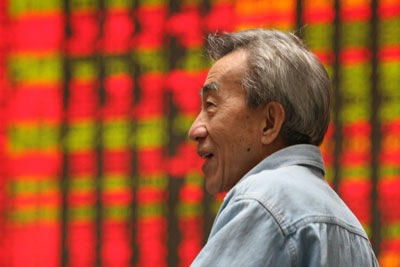 An investor smiles before an electronic board showing stock information at a securities firm in Xiamen, East China's Fujian Province March 20, 2007. [newsphoto]
Chinese stocks seesawed through an erratic session Friday as investors are jittery about the direction after the market is at an all-time high.
The major indexes fluctuated throughout the session, with the benchmark Shanghai Composite Index bobbing between positive and negative territory as investors tried to sum up where the market was headed after it closed at record highs repeatedly in the two previous sessions.
The index plummeted nearly 9 percent on February 27, the biggest daily fall for a decade, after reaching a then record high of 3,040.
Special coverage:
Stock Market

Related readings:
China stocks hit new high on investment fever
China stocks hit record high
Funds investment fever runs high in China
China faces liquidity, inflation pressure
Asian stocks plunge after US sell-off
US stocks plummet on lender woes
Central banker downplays market swings
Don't blame China for falling markets
Chinese unfazed as share markets tremble
Stocks fall as Ping An debuts
Stock plunge: Capitalism 101 for investors
Stocks recovered from record plunge
Stocks nosedive after record high close
The Shanghai index closed up 0.1 percent at 3,074.28, a new closing high. The Shenzhen Composite Index finished 1.03 percent higher at 816.91 while the Shanghai and Shenzhen 300 index of major companies ended up 0.15 percent at 2715.47.
Energy shares led the rise. China Petroleum and Chemical Corporation gained 1.06 percent to 9.5 yuan while China Yangtze Power Co. rose 3.26 percent to 12.66 yuan.
Nearly all financial shares declined, dragging down the market. Citic Securities, the country's No. 1 brokerage was the biggest loser, falling 2.74 percent to 40.41 yuan while China Life was down 1.02 percent to 34 yuan.
Bank of China, which reported a 65 percent growth in net profit in 2006, fell 0.76 percent to 5.2 yuan. Industrial Bank was an exception as it gained 0.36 percent to 24.91 yuan.
Trading was heavy on the Shanghai and Shenzhen stock exchanges. A total of 11.87 billion shares were traded in Shanghai, at a volume of 104.61 billlion yuan. In Shenzhen, the turnover hit 56.34 billon yuan, with 1.14 billion shares changing hands.