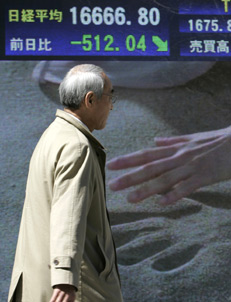 A pedestrian walks past a stock index board in Tokyo March 14, 2007. The Nikkei average was down 2.77 percent on Wednesday afternoon. [Reuters]


Asian stocks plunged Wednesday after Wall Street chalked its second-biggest point drop in four years and rattled already nervous markets worldwide.

The tumble extended a couple weeks of international trading turmoil rooted in concerns about overheated global markets and slower growth in the American economy, a major export market for Asian companies.

Concern about US sub-prime lenders and lackluster retail sales pushed the Dow Jones industrials down nearly 2 percent overnight, sparking selloffs across Asia.

Stocks in Japan, Hong Kong and Australia all fell more than 2 percent, while shares in Singapore, India, Malaysia and the Philippines tumbled at least 3 percent.

The benchmark Composite Index on the Shanghai Stock Exchange closed at 2,906.33 points on Wednesday, down 1.97% or 58.46 points from the previous close.

At the Tokyo Stock Exchange, the region's biggest bourse, the benchmark Nikkei 225 index sank 501.95 points, or 2.92 percent, to finish at 16,676.89 points. Foreign investors who bought up stocks during the recent rally led the selling, traders said.

Hong Kong's Hang Seng index was down 2.8 percent, Indian stocks dropped 3 percent, while Philippine stocks plunged 3.4 percent.

Overnight, the Dow fell 242.66, or 1.97 percent, to 12,075.96 amid concerns about US sub-prime lenders, who provide mortgages to people with poor credit. The US Commerce Department also said sales at retailers rose a less-than-expected 0.1 percent in February, suggesting consumer spending might be waning.
Special coverage:
Stock Market

Related readings:
US stocks plummet on lender woes
Central banker downplays market swings
Don't blame China for falling markets
China aims to launch stock index futures in 1st half
Chinese unfazed as share markets tremble
Stocks fall as Ping An debuts
Stock plunge: Capitalism 101 for investors
Stocks recovered from record plunge
Stocks nosedive after record high close
"The US sub-prime concern has cast a great shadow on Asia. The worry is that it could spill over and cause the US economy to slow down, and this will cause a domino effect on the world economy," said Lee Cheng Hooi, technical analysis manager at EON Capital in Kuala Lumpur. "There could be more bloodbath to come."

Still, other analysts maintained that Asia's economic fundamentals remain strong and that the recent round of declines in stock prices were more likely a correction to cool markets that had risen too far too fast over recent months.

"The sell-off is in sympathy with the sharp sell-off we saw overnight on Wall Street, and it highlights the continued nervousness out there," said David Cohen, chief of Asian economic forecasting at Action Economics in Singapore.

"In perspective you could still say that this is a correction after the strong rally that was experienced for the previous several months around the world," he said.

While the US retail sales data and mortgage news that prompted the sell-off on Wall Street "are a little concerning," fundamentals such as strong US jobs data released Friday were still supportive of global equities.

"The world economy seems to be remaining on an upward trajectory," Cohen said.

The slump reversed a modest recovery in global markets from even bigger losses that started late last month with a sharp sell-off in Chinese stocks February 27, which contributed to a 416-point drop in the Dow later that day.

In India, jittery investors sold off almost every blue chip stock, dragging the 30-share Sensitive Index, or Sensex, the benchmark index of the Bombay Stock Exchange, down by 397 points, or 3 percent, to 12,585.70 points in midday trading.

Indian shares have seen wild swings each time the global markets have turned weak. The Sensex fell 43 percent in May-June last year, only to bounce back to hit record highs. The Sensex reached an all-time high of 14,643 on February 7, before losing about 2,000 points, or 14 percent, in the latest round of global declines.

Elsewhere Wednesday, Sydney's S&P/ASX 200 fell 2.1 percent, Singapore's Straits Times benchmark was down 3.17 percent, and South Korea's Kospi closed 2.0 percent lower.