NEW YORK - US stocks plunged Tuesday, driving the Dow Jones industrials down more than 240 points to their second-biggest drop in almost four years, as troubles piled up for subprime lenders.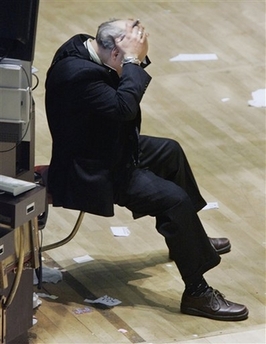 Trader Peter Tuchman rubs his head as he works on the floor of the New York Stock Exchange, Tuesday afternoon, March 13, 2007. Stocks plunged Tuesday, March 13, 2007, driving the Dow Jones industrials down more than 200 points and erasing all the gains made last week as troubles for subprime lenders piled up. [AP]
Investors, bracing for a wilting economy, fled the already deflated subprime mortgage sector on more news that lenders New Century Financial Corp., Accredited Home Lenders Holding Co. and General Motors Acceptance Corp.'s residential unit are facing financial problems. The Mortgage Bankers Association bolstered the belief that the struggles are widespread after it said new foreclosures surged to an all-time high in the last quarter of 2006.
All three major stock indexes were knocked down about 2 percent.
"The market's still jittery, and they're starting to get full-blown concerns over a bleed in the larger subprime mortgage market," said Matt Kelmon, portfolio manager of the Kelmoore Strategy Funds.
Subprime lenders provide mortgages to people with poor credit. Though they are a relatively small part of the U.S. economy, their difficulties raise larger concerns about the housing market, which until its slowdown in recent years was a big source of money for consumers. That, coupled with the Commerce Department's report Tuesday that U.S. retailers eked out a meager 0.1 percent rise in sales last month, led Wall Street to reconsider whether Americans' buying power will withstand an economic slowdown.
Tuesday's selloff was accentuated by options expiring soon and by volatility that has increased since the market's big plunge on Feb. 27 — a 416-point drop in the Dow that was caused partially by the escalating distress among subprime lenders.
The Dow fell 242.66, or 1.97 percent, to 12,075.96. On March 24, 2003 the index dropped 307 points when U.S. casualties began mounting in Iraq.
The blue chip index is now down about 710 points, more than 5 percent, from its record close reached Feb. 20. Many market watchers suspect that the market's correction is not over.
The Dow is still above the low for the year of 12,050.41 reached March 5 and has yet to slip below the 12,000 level, which it reached for the first time last October.
Broader stock indicators also fell by their largest amounts in two weeks. The Standard & Poor's 500 index fell 28.65, or 2.04 percent, to 1,377.95, and the Nasdaq composite index slid 51.72, or 2.15 percent, to 2,350.57.
Consolidated volume on the New York Stock Exchange, where declining issues outnumbered advancers by 5 to 1, was high at 3.49 billion shares — more than the 2.62 billion shares traded a day earlier, but lower than the 4.56 billion shares traded on Feb. 27, when the Dow took its largest plunge since Sept. 17, 2001.
Trading collars were triggered Tuesday afternoon when the New York Stock Exchange Composite index lost more than 180 points. The collars put a chokehold on certain orders, forbidding transactions that capitalize on discrepancies in prices.
Subprime lending jitters and sluggish retail sales drove up bond prices. The yield on the benchmark 10-year Treasury note fell to 4.50 percent from 4.56 percent late Monday.
Gold prices fell, and the dollar was lower against most major currencies. A drop in the dollar versus the yen renewed anxiety about traders unwinding their yen "carry trades," or taking money out of high-yielding dollar assets bought with the low-yielding yen.
The subprime worries have been mounting for weeks now, but came to a head when the New York Stock Exchange took steps to delist shares of New Century, which said Tuesday that the Securities and Exchange Commission would be probing accounting errors that inflated its loan portfolio.
"Investors are poking around to see how much rotted wood there is here," said Jack Ablin, chief investment officer for Harris Private Bank. "It looks like the notion was subprime was contained, and now we're starting to see that maybe this problem has moved into other areas of the market. That's causing investors great concern."
Accredited Home contributed to the anxiety after it said it is in need of cash. Its shares plunged $7.43, or 65 percent, to $3.97.
Wall Street sold off further when the Mortgage Bankers Association's quarterly report on the mortgage market seemed to confirm investors' worries that the entire sector is floundering and could weaken further: not only did new foreclosures hit a record high in the fourth quarter of last year, but late mortgage payments soared to a 3 1/2-year high.
Late in the session, General Motors Acceptance Corp. — General Motors Corp.'s part-owned financing arm — reported that its fourth-quarter profit rose, but struggles in its Residential Capital LLC unit were eating into earnings. That news gave investors extra motivation to sell.
"The fear index is rising," said Steven Cochrane, senior managing director for Moody's Economy.com. "(Subprime mortgages) are our No. 1 concern right now."
That anxiety hit stocks of homebuilders, as lending obstacles could further cripple the lagging housing market. D.R. Horton Inc. fell 86 cents, or 3.7 percent, to $22.31; Centex Corp. lost $2.15, or 4.8 percent, to $42.76; and Toll Brothers Inc. dropped 67 cents, or 2.4 percent, to $27.34.
Investors trying to gauge how far problems in the subprime sector have spread pounced on comments from Goldman Sachs Group Inc. The investment bank said that while the subprime sector showed "significant weakness," the broader credit environment "remained strong." Goldman Sachs fell $3.57 to $199.03, despite record first-quarter profit thanks to strong revenue from trading and investment banking.
Government data on Tuesday suggested that consumer spending might be getting crimped. The Commerce Department said sales at U.S. retailers rose 0.1 percent in February as wintry weather in much of the country kept shoppers away from stores. Investors had expected an increase of 0.3 percent from January.
"I think a big question mark on this is how much of this is weather-related," said Rob Lutts, chief investment officer at Cabot Money Management. "We had two or three days during the month which knocked out activity. ... I think it is causing a little bit of alarm short-term."
Several retailers stumbled following the Commerce Department's report. Federated Department Stores Inc., parent of Macy's and Bloomingdale's, fell 85 cents to $44.09; Wal-Mart Stores Inc. slid $1.08, or 2.3 percent, to $46.18; and Target Corp. fell $1.76, or 2.8 percent, to $60.47.
Traders now await the producer and consumer price indexes, scheduled to be released Thursday and Friday, respectively. The two inflation gauges should give investors a better idea of whether costs are escalating too fast, and if the Federal Reserve might give consumers some relief by lowering interest rates later in the year.
Of the Dow's 30 blue chip stocks, the only gainer was AT&T Corp., which rose 20 cents to $37.26.
The Russell 2000 index of smaller companies fell 19.88, or 2.52 percent, to 769.12.
Overseas, Japan's Nikkei stock average fell 0.66 percent. Britain's FTSE 100 fell 1.16 percent, Germany's DAX index fell 1.36 percent, and France's CAC-40 fell 1.15 percent.
Light, sweet crude fell 98 cents to settle at $57.93 per barrel on the New York Mercantile Exchange.