Chinese stocks plummeted Thursday in spite of the premier's pledges to develop the capital market as Ping An Insurance (Group) Co. made China's second biggest domestic IPO.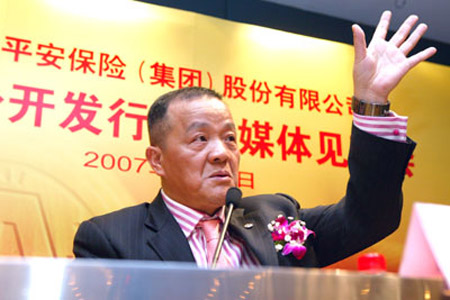 Dr. Peter Ma, chairman and chief executive officer of Ping An Insurance (Group) Co., gestures as he speaks at the insurer's IPO ceremony in the Shanghai Stock Exchange Thursday March 1, 2007. [newsphoto]

The benchmark Shanghai Composite Index fell 83.88 points, or 2.91 per cent to 2,797.19. The Shenzhen Composite Index lost 16.91 points, or 2.30 per cent, to 719.90. The Shanghai and Shenzhen 300 index was down 71.21 points, or 2.80 per cent, to 2,473.36.
Special coverage:
Stock Market

Related readings:
Wen calls for more financial reform
Stocks recovered from record plunge
Stocks see biggest fall in 10 years
Stocks nosedive after record high closeStocks end well off highs after new record
A HK-Shanghai market merger?
Stock index up 2.3 pct as banks recover
Boom and bust on the road to prosperity
Value of China's listed stocks shrinks by 7% in past week
Listed stocks shrink 7% in past week
Lawmaker sees stock market bubble
The fall came as Premier Wen Jiabao vowed to vigorously push forward the development of the capital and insurance markets in an article published Thursday by the Party journal Qiushi (Seeking Truth).

Ping An Insurance, China's No. 2 life insurer, opened at 50 yuan, a rise of 47.93% over the offer price of 33.80 and closed at 46.79, making it the most expensive financial share in the country's A-share market.

The insurer, 19.9 percent-owned by HSBC, raised 38.87 billion yuan in the world's biggest ever insurance IPO and China's second biggest A-share offering. The country's domestic IPO record was set by the Industrial & Commercial Bank of China last October, which raised $6 billion.

However, the Ping An listing did not help other financial shares recover the lost ground. China Life shed 5.21 per cent to 34 yuan. The Industrial and Commercial Bank of China, the nation's biggest lender, sank 3.06 per cent to 4.75 yuan while the Citic Securities Co., the nation's biggest publicly traded brokerage, slipped 5.63 per cent to 35.02 yuan.

Chinese stocks, which more than doubled last year, became highly volatile after the Spring Festival. The Shanghai Composite Index hit an all-time high of 3,040 in the first post-festival session before plunging 9 per cent, the sharpest fall in a decade, in the following session. Then the index recovered nearly half of the loss Wednesday, thanks to news about Wen's article.

| | | |
| --- | --- | --- |
| 1 | 2 | |
(For more biz stories, please visit Industry Updates)