http://www.washingtonpost.com/wp-dyn/content/article/2007/02/28/AR2007022800818.html

SHENYANG -- While most of the world's stock markets looked to institutional investors to pull them out of this week's slide, China's exchanges depended heavily on people like Wang Weiping.
Special coverage:
Stock Market

Related readings:  
Stocks see biggest fall in 10 years
Stocks nosedive after record high closeStocks end well off highs after new record
A HK-Shanghai market merger?
Stock index up 2.3 pct as banks recover
Boom and bust on the road to prosperity
Value of China's listed stocks shrinks by 7% in past week
Listed stocks shrink 7% in past week
Lawmaker sees stock market bubble
Wednesday morning, one day after a worldwide equity plunge was at least partially triggered by a massive sell-off at Chinese stock exchanges, Wang's portfolio had lost more than 10 percent of its value. But as other investors around her in the Liaoning Securities trading room in this northeastern city were agonizing over whether to sell as their stocks continued to sink, the 56-year-old retired government statistics worker was knitting a red sweater for her grandson.
Wang said she had seen the state-sponsored advertisements warning of the dangers of expecting immediate returns from the stock market. And she believed the government's promise that it would guard the stability of the financial markets.
She decided to hold. She was rewarded by afternoon, when the stocks rebounded.
"It's very normal for a stock market to go up and down. Those are part of the rules," she said, repeating almost word for word what experts from think tanks associated with the government had been saying all day.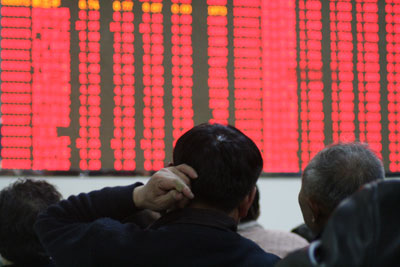 Traders look at stock information at a securities company in Ji'nan, East China's Shandong Province Thursday February 15, 2007. [newsphoto]
To boost investor confidence Wednesday, the Chinese government took a variety of damage-control measures that included squelching rumors of a new capital gains tax. Even Premier Wen Jiabao spoke out. The official Xinhua News Agency said he would issue a statement Thursday calling for "deepened reform of the financial sectors as to enhance a sustained, healthy and safe development of the industry."
By the end of trading Wednesday, the key Shanghai index had regained 3.94 percent of its value after falling almost 9 percent the day before. Markets in the rest of Asia, however, continued to fall Wednesday: Tokyo was down 2.85 percent, Seoul lost 2.56 percent, and Hong Kong lost 2.46 percent.
Minggao Shen, a Citigroup economist based in Beijing, wrote in a report by three Citigroup analysts that the Shanghai sell-off was prompted by "ill-founded jitters" and that there was no significant new information revealed to justify it.
In the short term, the Chinese stock markets "will stabilize a bit," Shen said. "Some people need some time to adjust. It hurt many people. But I don't think there will be a bigger correction than this one."
As part of their push to open and modernize the Chinese economy, government officials have sought to build a world-class stock exchange. But even as state-run newspapers have been jubilantly announcing in recent weeks that the Shanghai Stock Exchange had hit all-time highs, officials have been frustrated that many of the largest mainland companies have chosen to list abroad.
They have had the opposite problem with individual investors, who have been mesmerized by the idea of stock market riches and have been willing to line up for hours to sign up for brokerage accounts and to pawn their possessions to finance them.

There's a worry, however, that many of China's new day traders have known a stock market that only goes up.
"There's really too much speculation. . . . If one person wants to get out, everyone wants to get out," said Francis Lun, general manager of Hong Kong-based Fulbright Securities. He put part of the blame for the sell-off on what he called the "immaturity of the investing public."
Qian Laizhi, assistant manager of Liaoning Securities, a brokerage firm, said Chinese investors should get more credit. He believes the stock market drop was simply a "correction, but a necessary one." Thanks to a government education campaign in recent weeks, "the public got mature information about the dangers of the stock market, so most people were calm, were okay."
A significant share of the buying and selling in China is done in trading buildings, which are filled with giant, constantly changing electronic bulletin boards and rows of computer monitors. These places have the feel of horse-betting counters or Las Vegas craps tables in their hubbub and in the interaction between customers. Investors often pad about in their house slippers and sit around playing mah-jongg during slow periods.
More than 300,000 people have brokerage accounts at Liaoning Securities, which serves Liaoning's provincial population of nearly 45 million.
On a typical day, thousands of these people go in and out the doors of the headquarters in Shenyang. Rumors can spread within seconds from cubby to cubby, based on what investors read on the Internet or hear from their friends on short phone messages.
This kind of groupthink was evident Wednesday, when everyone was trading information about the possible resignation of the commissioner of the China Securities Regulatory Commission and introduction of a 20 percent capital gains tax.
On the first floor at Liaoning, Wang and her cabal of other retirees near the windows felt they should hold, so they did. On the third floor, reserved for those with investments of 200,000 to 300,000 yuan (about $26,000 to $39,000), one of two former colleagues had a feeling "that something is not good" when he saw shares tank. So they both dumped their shares even though they lost money.
On the fifth floor, where those who have invested more than half a million yuan ($64,600) are allowed to trade, Zhu Xiongfe, 50, a musical instrument repairman-turned- full-time investor, felt that this was a good opportunity to buy stocks at a discount, so he and the two others in the room bought.
Zhu said he had been bombarded with phone calls from fellow investors since Tuesday morning. "It's not right, they say. They are all panicked and worried everything was crashing. I told them to wait three days, and in those three days, buy but do not sell," Zhu said.
Stock analysts and large investors noted that the drop was expected. As the stock markets climbed ever higher in January, the Chinese government began a campaign to educate investors about a possible drop like Tuesday's.
Zuo Dapei, a researcher at the Institute of Economics at the Chinese Academy of Social Sciences, said: "Actually, for a long time, there has been an ever-present doubt in the market: Can China's stock prices continue to rise?"
Courtesy of Washington Post