Chinese feverish investment in funds is sweeping what McKinsey & Co Inc. describes as the world's fastest growing funds market.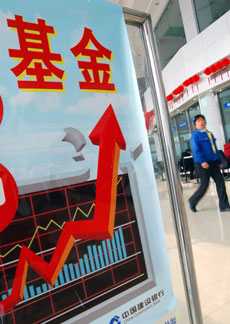 A billboard for a fund is seen in Haian, East China's Jiangsu Province March 10, 2007. [newsphoto]

The shares of three new funds were sold out less than one hour after their issuance in the past two weeks, raising nearly 30 billion yuan, according to reports.

The mania looks like an early confirmation of McKinsey's prediction about China's funds industry. The country's assets under management in the funds market may top US$1.4 trillion by 2016, making it the world's fastest-growing market, the New York-based consulting company said Wednesday in a report.

Funds managers currently run US$156 billion in the country. If the prediction came true, that would represent an average annual increase of 25 percent.

The growth will be driven by consumers seeking higher returns than those offered by bank accounts, the McKinsey report said.
Special coverage:
Stock Market

Related readings:
China faces liquidity, inflation pressure
Asian stocks plunge after US sell-off
US stocks plummet on lender woes
Central banker downplays market swings
Don't blame China for falling markets
Chinese unfazed as share markets tremble
Stocks fall as Ping An debuts
Stock plunge: Capitalism 101 for investors
Stocks recovered from record plunge
Stocks nosedive after record high close
Last year, the Chinese citizens kept some 79 percent of their personal financial assets in cash and in banks, where one-year deposits yield 2.52 percent a year, because of a lack of investment alternatives, McKinsey said.

However, a change is on the horizon after a bull run drove up China's stock markets by more than 130 percent last year, helping the funds reap an average gain of more than 50 percent. The gains of certain funds invested in stocks even reached 150 percent.

The lucrative profit allured many Chinese citizens who rushed to get hands on the new funds. On February 26, crazy investors bought up the 10 billion shares of the Jianxin Optimized Collocation Funds within one hour.

That sales speed was nothing compared with the Huitanfu Growth Focus Funds, which was sold out in ten minutes, raising some 10 billion yuan.

The investment enthusiasm could also be seen from the newly opened stocks and funds accounts. A total of 760,000 investor accounts were opened on March 6 and 7, including 165,000 stock accounts and 595,000 funds accounts, official statistics showed. That equaled the amount for a half year in the last few years.

In face of the investment craze, central bank governor Zhou Xiaochuan Monday advised retail investors to learn something about finance while pledging to develop the financial markets.

The institutional investors have a large room for development in the country, said Zhou.