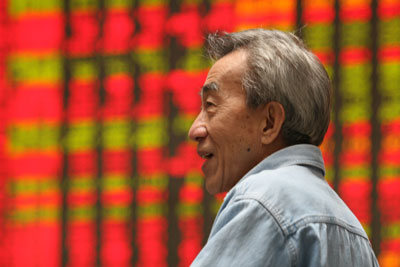 An investor smiles before an electronic board showing stock information at a securities firm in Xiamen, East China's Fujian Province March 20, 2007. [newsphoto]


China's main stock index surged to a record high on strong growth of corporate earnings and speculations of the launch of stock index futures in May.
The Shanghai Composite Index, the most widely watched indicator of the mainland stock market, gained 2.27 percent to 3,398.95, extending this year's gains to 27 percent after surging 130 percent last year.
The Shenzhen Composite Index rose 2.09 percent to 907.81 while the Shanghai and Shenzhen 300 Index of major companies climbed 2.23 per cent to 3,038.17.
Special coverage:
Stock Market

Related readings:
Blue chips push stocks to new high
China stocks at new high after seesaw session
China stocks hit new high on investment fever
China stocks hit record high
Funds investment fever runs high in China
China faces liquidity, inflation pressure
Asian stocks plunge after US sell-off
US stocks plummet on lender woes
Central banker downplays market swings
Don't blame China for falling markets
Chinese unfazed as share markets tremble
Stocks fall as Ping An debuts
Stock plunge: Capitalism 101 for investors
Stocks recovered from record plunge
Stocks nosedive after record high close
The surge came as Shenyin Wanguo Securities predicted a 55 percent year-on-year jump in net profits for the listed companies on average in the first quarter of this year.
Of the 81 firms that have made forecasts about their performance from January and March, 17 projected that their net profits would surge 300 percent from the same period last year, according to the China Securities Journal.
Wild market speculations about the stock index futures also helped push up the indexes as major funds grabbed shares of blue chips.
The preparations for the launch of the stock index futures are going smoothly, with the legal framework being improved, the Shanghai Securities Times Monday quoted Jiang Yang, assistant chairman of China Securities Regulatory Commission, as saying.
China Securities Regulatory Commission is the Chinese equivalent of Securities Exchange Commission (SEC) in the US.
The China Financial Future Exchange has basically completed the product design, rules setting and technical preparations for the stock index futures, added Jiang.
Financial shares are major contributors to the boom. Ping An Insurance of China jumped 7.50 percent to 51.61 yuan while its rival China Life gained 5.08 percent to 37 yuan. The Industrial Bank 5.71 percent to 29.83 as the Bank of China was up 0.71 percent to 5.67 yuan.
Shanghai International Ports Group jumped 9.94 percent, close to the daily limit of 10 percent, to 11.06 yuan. China Petroleum and Chemical Corporation (also know as Sinopec) was up 3.29 percent to 10.36 yuan.