China hopes for solution to EU shoes spat
China's foreign ministry struck a conciliatory tone on Tuesday in the latest trade row with the European Union, expressing hope that talks will stave off anti-dumping duties on Chinese shoe exports to the bloc.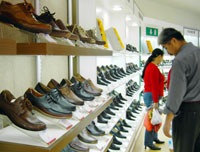 A customer makes a selection of China-made shoes at a market in Yichang, central China's Hubei Province in this August 22, 2005 photo. EU will impose import duties as high as 20 percent on some leather shoes from China and Vietnam starting in April. [newsphoto]
The European Commission confirmed on Monday it had evidence of dumping by Chinese and Vietnamese exporters of leather shoes after finding manufacturers benefited from state intervention.
The commission, in charge of trade policy in the 25-member EU, declined to comment on measures it could take.
But a source familiar with the investigation said the Brussels-based executive would recommend duties of less than 20 percent, to be phased in from April 7.
Chinese Foreign Ministry spokesman Liu Jianchao said frictions were bound to arise as Sino-EU trade grew.
"We hope the two sides resolve any problems on the basis of mutual benefit and mutual respect," he told a regular news conference.
Liu noted that Beijing and Brussels settled a number of trade disputes last year through negotiations. Chief among these was sparked by a surge in Chinese exports of textiles following the abolition of global quotas.
The shoes case is one of a proliferation of anti-dumping actions involving China, whose exporting prowess is raising political hackles in Europe and the United States.
Brussels is also probing whether China exports plastic bags more cheaply than it can produce them, and just last week the EU settled a similar row over iron castings.
Chen Zemei, a director of Zhejiang Saina Group, said it was absurd for the EU to rule that Chinese shoe makers were dumping goods in Europe. Anti-dumping inspectors from Brussels combed his company for five days last November.
"Most of us are private enterprises and our biggest priority is to make money, so it is impossible for us to sell our products at a price lower than costs," said Chen.

Editor's picks

Copyright 1995 - . All rights reserved. The content (including but not limited to text, photo, multimedia information, etc) published in this site belongs to China Daily Information Co (CDIC). Without written authorization from CDIC, such content shall not be republished or used in any form. Note: Browsers with 1024*768 or higher resolution are suggested for this site.
Registration Number: 130349