The experience was very impressive and profound
Although I joined the Party two decades ago, this was my first trip to Yan'an and my first systematic study of the Party, including history, spirit and theory.
I'm an engineering consultant, and I rarely had a chance to study the Party until I was appointed to my company's Party committee. I undertook periods of short-term study at a local Party school, usually two or three days, but it wasn't adequate.
My trip to the Yan'an academy was arranged by the Tianjin organization department. Two weeks before the program started, I was told to hand over my work and travel to Yan'an.
I'm about to turn 50, and the three-week program ignited my passion. I've become deeply interested in the Party and China's modern history. I've developed pride in being a Party member, not only being inspired and deeply moved, but also thinking about how to combine my beliefs and methodology with my life.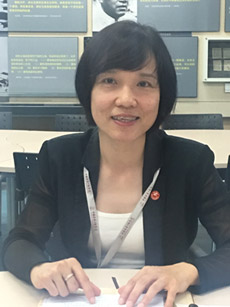 Hu Xiaoying, a 49-year-old deputy general manager at an engineering consultancy in Tianjin. [Photo provided to chinadaily.com.cn] 
Having classes at historic sites impressed and inspired me. When we visited Liangjiahe, where President Xi Jinping started his career, I sat on the loess plateau of the Yellow River and took a close look at local poverty.
I could picture the top leader's younger days; how he overcame difficulties and made efforts to serve the locals.
I knew his story, and had even given lectures to junior Party members at work, but I had never actually been to the village. Now I learned by walking on the loess and sitting in the caves. The experience was very impressive and profound.
I won't say my ideological level has improved after the 21-day training course, but I can sense a change that is affecting the way I think about work.
I have a dilemma at work. We are transitioning from being government affiliated into a fully fledged State-owned company. The decision will affect all the workers, but especially older people and their pensions. I can wait for the government to release policies, which would be the safe thing to do, or I can propose better plans for them, which may be risky.
The lesson I learned is not to be afraid of difficulties. So, I will take the responsibility to make a difference.

Editor's picks