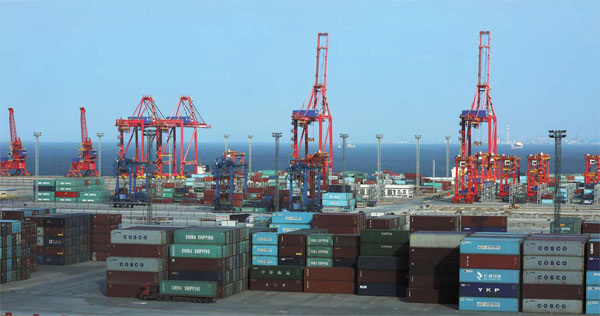 Zhanjiang Port handled 560,000 containers in 2014. Throughput is expected to reach 700,000 containers this year. [Provided to China Daily]
Cargo throughput of Zhanjiang port hit a record high of 114.3 million tons in the first half of this year, an increase of 8.2 percent year-on-year, according to Zhanjiang Transportation Bureau on Saturday.
It said container throughput grew 18.4 percent from a year earlier to stand at 284,000 TEUs (Twenty-foot Equivalent Units) during the same period. And 1.31 million automobiles have been shipped through the port, an increase of 10.9 percent year-on-year.
Meanwhile, throughput of petroleum and metallic ores reached 13.48 million tons and 15.77 million, a growth of 15.8 percent and 5.1 percent respectively.
Entrepot cargo trade surged 29.6 percent during the same period to hit 10.67 million tons, which also contributed to the overall throughput growth of Zhanjiang port.
Zhanjiang port has been trying to expand its market and win more clients with the advantage of sea transportation, which is cheaper and faster compared to land.
An official from the city's transportation bureau said that Zhanjiang port will continue to use opportunities such as the Maritime Silk Road initiative and regional cooperation between Pan-Pearl-River-Delta District and Round-Beipu-Gulf Area to develop an all-round way.
The port will also speed up in its dock construction to provide better service, said the official.