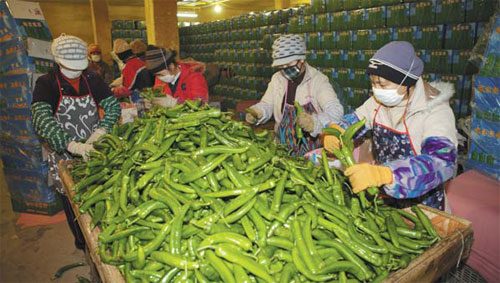 Employees at Zhanlu Agriculture Technologies select chili peppers before they are packaged and delivered throughout China. [Photo/China Daily]
Cai Pingzhen, general manager of Zhanlu Agriculture Technologies Co, can talk for hours about the huge range of chili peppers that grow at her 200-hectare production base.
The 38-year-old said she has helped grow peppers with her father Cai Jin, who founded the company, since she graduated.
Zhanlu Agriculture, which has the largest production base for chili peppers in Zhanjiang, a coastal city in Guangdong province, delivers offseason peppers to northern China.
"Chili peppers have become a part of my life because the region has been a major production base for offseason chili peppers and the nice and warm weather here is very suitable for growing peppers, even in winter," Cai said.
In the offseason, vegetables can be planted in greenhouses as well as in fields and can be harvested in winter and spring, according to Cai. "The harvest time can last for half a year," she added.
Zhanjiang's annual average temperature is 22.7 C and although the region has supplied many parts of the country with chili peppers for years, the vegetable is not a common ingredient for locals to use in their dishes as they prefer nonspicy foods.
Last year, chili peppers were named as a "strategic vegetable" in Guangdong province.
Cai said the company's annual vegetable production could reach 20,000 metric tons, including chili peppers, cucumbers, cabbages and sweet potatoes.
Although Zhanjiang has a mature and prosperous planting industry, which produces abundant agricultural products, it lags behind in branding due to a lack of promotion and an established logistics system.
"Almost 30 to 40 percent of the vegetables were being damaged during storage and transportation," Cai said.
To solve that problem, Cai set up a refrigeration house, with 30,000 tons of storage capacity, where vegetables can be kept fresh, before being packaged and delivered to other parts of the country.
This year, the Zhanjiang Association of Cold-chain Logistics was also set up to support the city's agriculture and cold-chain logistics in industry planning, distribution network expansion, investment promotion and marketing.