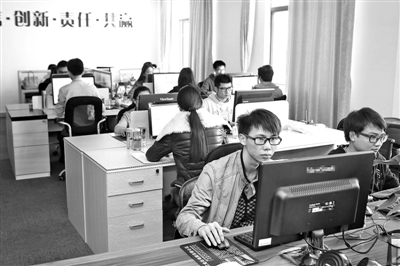 College students in Zhanjiang are encouraged to start up their own businesses by the municipal government.
The southern "maritime valley" to be a key platform for innovative economic development and entrepreneurship has been put under the spotlight during Zhanjiang's two sessions in 2015.
The government work report delivered by Zhanjiang mayor Wang Zhongbing, elaborated on the blueprint of innovation-driven development led by the southern "maritime valley".
Wang Zhongbing stressed in the government work report that Zhanjiang can no longer rely on resource-intensive industrial development, which is unsustainable due to the constraints of resource shortage and environmental pollution.
He said the harbor industries such as the iron and steel industry will bring tremendous business opportunities, with the premise of an open and innovative climate. Besides, young entrepreneurs to be the dominant force in Zhanjiang's future development needed an innovative platform to start up their business, Wang said. Thus the city urgently calls for establishing an innovative platform.
The political advisers raised many proposals about the construction of the southern "maritime valley", ranging from the general direction of its development to specific tasks.
The CPPCC members proposed the planning of the platform should be based on the future trend of international maritime economic development, and focus on maritime science and technology, maritime industry, and maritime capital market.
In addition, a capital supporting system should be established for the southern "maritime valley", without which the maritime economy can never gain momentum. The CPPCC members suggested strategic cooperation between the platform and the Shenzhen Stock Exchange and Shanghai Stock Exchange, so as to build a smooth financing channel for enterprises in the maritime industry. In addition, maritime economic indexes can be compiled and published regularly, and a maritime product future market can be established simultaneously. The goal is to make Zhanjiang an international maritime trading center.
An educational base centered on Guangdong Ocean University in the southern "maritime valley" was proposed by the China Democratic National Construction Association's Zhanjiang committee, to fully utilize the industry-university-research cooperation. The political advisers also suggested the establishment of a maritime food base, a maritime biomedical base, a maritime financial base and a maritime science park.
Zhanjiang's young entrepreneurs are also anticipating the southern "maritime valley", as the municipal government has already rooted for the expanding team of young entrepreneurs engaged in various industries from IT technology, e-commerce, and logistics to creative culture and education in recent years. The southern "maritime valley" with an open and dynamic atmosphere will surely be an ideal platform for them.