Tech firms strive to make robots smarter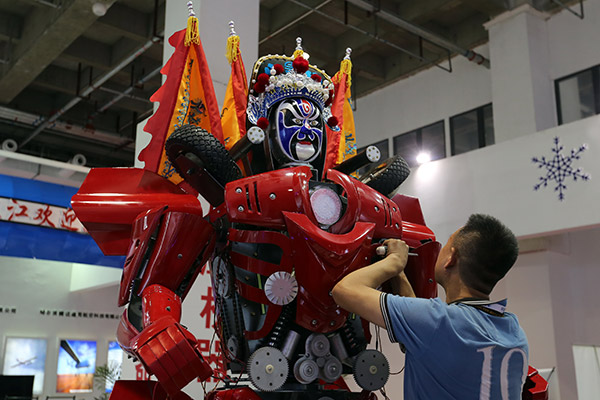 An exhibitor adjusts a robot on display at the ongoing World Robot Conference in Beijing. [Photo/China Daily by Wang Zhuangfei]
The robots showcased at the ongoing World Robot Conference in Beijing are becoming increasingly smart with the help of artificial intelligence technologies, offering assistance in a range of fields including playing the piano and basketball, teaching children English and medical advice.
The trend is expected to continue as companies scramble to differentiate themselves amid mounting competition and meet consumers' growing demand for intelligent products.
Wang Zhiguo, executive vice-president of the research institute at iFlytek Co Ltd, a leading voice recognition company in China, said AI is of increasing importance to robots, as it gives machines "eyes, ears, and a brain".
Currently, around 3,000 robots are using the company's AI technology in order to better understand human conversation and interact with consumers.
iFlytek itself also unveiled a robot at the ongoing conference to assist doctors. After listening to the patients' symptoms, the robot can offer guidance on which medical departments patients should visit for treatment.
Consultancy firm PricewaterhouseCoopers forecast that AI-related industries will boost China's GDP by as much as 26 percent by 2030.
Zong Xiao, vice-president of HIT Robot Group, a major robot manufacturer in China, said the company has established an AI research and development institute in Zhejiang province to explore how to combine the cutting-edge technology with its mechanical prowess.
"AI to robots is what operating systems are to personal computers. This is an area into which we will pour huge resources in the future," Zong said.
HIT Robot Group was established in December 2014 with funding from the provincial government and the Harbin Institute of Technology, an elite Chinese university that has conducted years of cutting-edge research on robotics. The university was the manufacturer of China's first space robots and lunar vehicle.
Zong said the company has also established a venture capital fund to invest in promising AI startups in the United States, without disclosing the size of the fund. Two years ago, it set up two offices in Silicon Valley and Washington DC to help access the latest AI trends and the industry's best talents.
In June, China set up its first artificial intelligence alliance in a move to expand the industry at a rapid pace. Led by the China Center for Information Industry Development, tech giants such as iFlytek, JD.com Inc, and Ecovacs Robotics Co teamed up to form the non-profit organization.
Zhang Boxu, director of Beijing Municipal Commission of Economy and Information Technology, said the key battlefield for robotics is shifting from hardware competition to software.
"There is a growing demand for tailormade, internet-connected robots. How to effectively integrate software and AI into machines will be the key to future growth," Zhang said.