Effort to marry robotics, AI will ramp up to aid manufacturing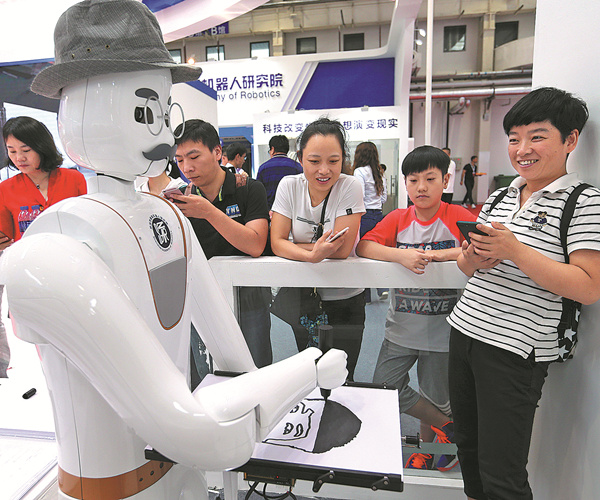 A sketch-drawing robot is demonstrated at the 2017 World Robot Conference in Beijing on Wednesday. WANG ZHUANGFEI / CHINA DAILY
China will ramp up efforts to integrate artificial intelligence technologies into robots as the country aims to gain a lead in the race toward a smarter, automated society and accelerate the use of industrial and service robots.
Vice-Premier Liu Yandong said on Wednesday that as robotics becomes increasingly intertwined with AI, big data and other technologies, the sector will play a significant role in driving economic growth in China.
"In the future, robots will no longer just be a tool to boost productivity but an advanced, smart assistant to humans, ushering in a new era of intelligent transformation," Liu said at the opening ceremony of the 2017 World Robot Conference in Beijing.
Her remarks came after China unveiled in July a national development plan to build a 1 trillion yuan ($147.9 billion) AI core industry by 2030, which is supposed to stimulate as much as 10 trillion yuan of related businesses. The application of AI technologies in robotics is an integral part of that ambitious goal.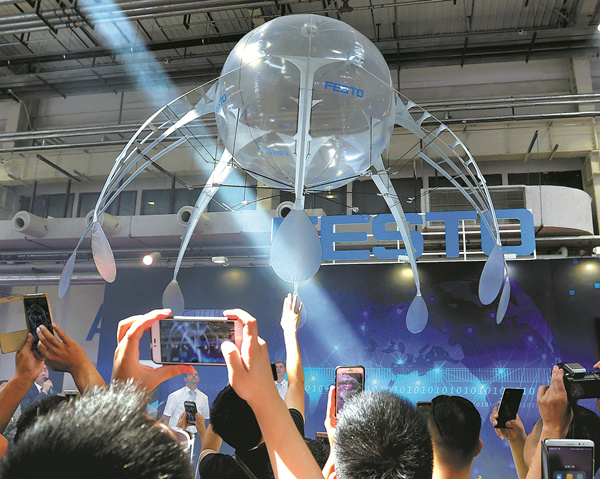 Bionic jellyfish is demonstrated at the 2017 World Robot Conference in Beijing on Wednesday. WANG ZHUANGFEI / CHINA DAILY
Xin Guobin, vice-minister of industry and information technology, said the global robotics industry faces a common bottleneck, with sophisticated machines still falling far behind people in vision, mobility, decision-making and other areas.
"China is on par with global leading powers in terms of voice, image and semantics recognition. Developing AI-enabled robots is a core path (for us) to leap from a follower to a leader in the sector," Xin said at the conference.
China has been the world's largest market for robot applications since 2013. The trend has been further fueled by a corporate push to upgrade labor-intensive manufacturing plants and comes amid surging demand from the healthcare, education and entertainment sectors.
Domestic robot makers are gaining steady progress despite mounting competition from foreign rivals such as ABB Group of Switzerland. In the first half of this year, China produced 59,000 units of industrial robots, up 52 percent from last year, official data shows.
Wu Jinting, chairman of robot maker Shanghai Hefu Holding Group Co Ltd, said AI is of utmost importance to service robots, giving "wings" to the company's products.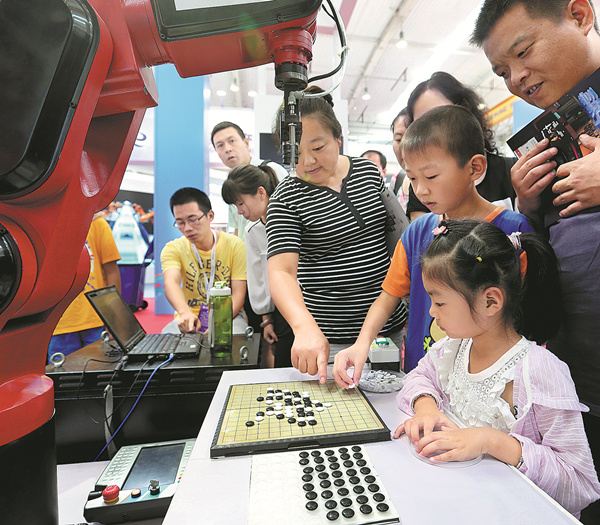 A gobang robot is demonstrated at the 2017 World Robot Conference in Beijing on Wednesday. WANG ZHUANGFEI / CHINA DAILY
"We will unveil a multifunctional service robot on Saturday. It can be tailor-made to meet different needs, either a considerate family companion, recognizing your face expressions and helping children study, or a useful assistant for office work," Wu said. "Without AI, it would have been impossible to make this robot."
The annual sales of China's robotics industry should hit $6.28 billion this year, after exceeding $5 billion for the first time in 2016, according to a forecast by the International Federation of Robotics.
Zvi Shiller, chairman of Israeli Robotics Association, said the robotics industry is, by nature, a result of multidisciplinary research and application, with AI a key part of that.
Zhu Lingqing contributed to this story.