Internet companies launch AI contest with largest open data pool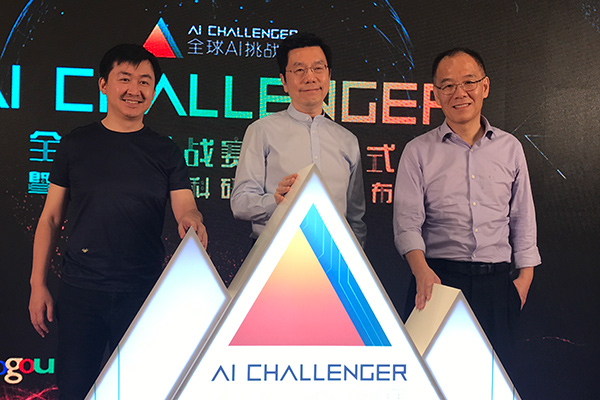 Wang Xiaochuan, founder and CEO of Sougou, Lee Kai-fu, founder and CEO of Sinovation Ventures, and Zhang Hongjiang, head of Technical Strategy Research Center with ByteDance, pose for pictures at the launch ceremony of AI Challenger contest, in Beijing, Aug 14, 2017. [Photo provided to chinadaily.com.cn]
Three Chinese internet companies have rolled out a global artificial intelligence (AI) contest with what claims to be among the largest open datasets, enabling talents a data-rich environment to hone their research.
China's second-biggest search giant Sougou, Sinovation Ventures, a venture capital founded by former Google and Microsoft executive Lee Kai-fu, and internet firm ByteDance launched the "AI Challenger" in Beijing on Monday.
The three plan to invest tens of millions of yuan in the coming three years on the platform and invite more companies to expand open data and bring down research barriers.
"In the US, professors and researchers would complain falling behind big corps due to the lack of data. Here we hope to set up a longstanding contest and cultivate talents by providing them huge data pool," Wang Xiaochuan, CEO of Sougou, said.
Starting from next month, AI Challenger vows to release over 300,000 image-based as well as over 10 million text-based data entries to participants, of which research results can be applied to fields such as autonomous driving, human-computer interaction, image understanding, robotic vision and machine translation, according to the organizers.
"Compared to seven years ago when the cost of starting an internet-related business was record low, such cost under the age of AI is high," said Lee Kai-fu, adding that AI research should go beyond borders.
The launch of the platform comes one month after China released its national AI development plan. Under the roadmap, the country aims to grow the industry to 1 trillion yuan and become a global leader in AI by 2030.
"Chinese firms are striving to become major contributors to the advance of AI technology," Wang said.
AI Challenger competition opens through Dec 3, and winners will receive a total of 2 million yuan awards.