Domestic companies move in to grab a larger slice of the cake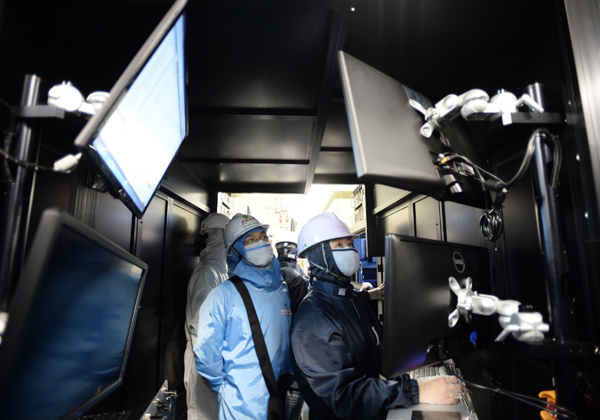 Staff test equipment for a 6th generation LTPS-AMOLED display screen manufacturing line at Shenzhen China Star Optoelectronics Technology (CSOT) Co Ltd's factory in Wuhan. ZHOU CHAO / FOR CHINA DAILY
Display screen manufacturers in China are expanding their market share in the smartphone sector as they move into high-end products.
Geng Yi, deputy secretary-general of China OLED Industry Alliance, confirmed that the trend is gathering pace.
"The core screen technology used to be dominated by Japanese and South Korean firms," Geng said. "But as domestic brands invested in screen innovation, they started catching up and expanded production capacity."
A report released by China Academy of Information and Communications Technology, or CAICT, showed in the first half of this year that more than 66 percent of 226 million handsets shipped into the country had Chinese-made screens.
This was an increase of 14.1 percentage points compared to the same period in 2015, CAICT, a research institute under the Ministry of Industry and Information Technology, reported.
From the same survey, figures showed China's Tianma Micro-electronics Co Ltd surpassed Japan Display Inc as the country's biggest supplier of smartphone screens by sales volume in the first six months. But it was sparse on detailed numbers.
Chinese competitors Truly Smart Display Ltd and BOE Technology Group also grabbed more than 10 percent of the market.
"Homegrown display companies have made progress in reducing product defect rates and they have gained momentum in the premium segment," Geng said.
About 19 percent of smartphones, sold for 3,000 yuan ($445) or more in China, are using domestic screens. Compared to last year that was an increase of 10 percentage points.
LCD, or liquid-crystal display, is still the main material for domestic smartphone screens, while OLED, or organic light-emitting diode technology, is mainly used in high-end products.
In China, more than 80 percent of the smartphones have LCD screens with 13.9 percent using OLED.
As for AMOLED, or active matrix/organic light-emitting diode, its presence in the smartphone market here is still limited.
These cutting-edge panels offer lower-power consumption, better color saturation, a slimmer structure, and most importantly, flexible and even foldable capabilities.
Up to now, Samsung Display has been the dominant supplier of AMOLED smartphone panels. But under capacity and surging demand are motivating Chinese manufacturers to ramp up production.
"China still has a long way to go to beef up domestic smartphone screen production capacity, although progress is being made," Geng said.