Building boom will help boost overall capacity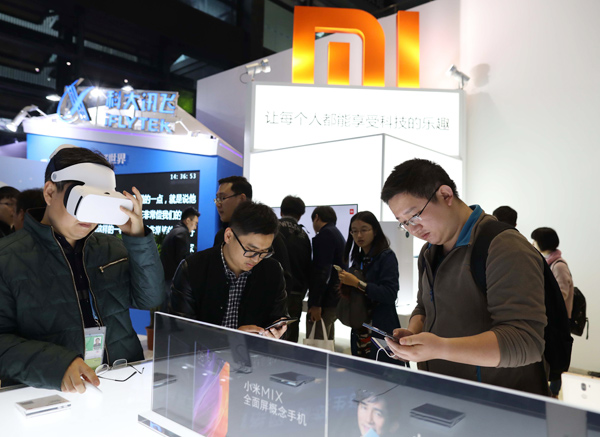 Xiaomi's mobile phones are on display at the 3rd World Internet Conference in Wuzhen, East China's Zhejiang province. ZHU XINGXIN / CHINA DAILY
A construction boom is underway as major companies in the flat screen sector increase production in high-tech AMOLED display units.
Industry insiders point out that the surge in upgrading and building new factories has been fueled by the growing use of active matrix/organic light-emitting diode technology, or AMOLED, panels in smartphones and televisions.
China, Japan and South Korea plan to build the equivalent of 46 new fabrication plants, known as "fabs" in the sector, to produce 30,000 plastic substrates.
These are the building blocks of cutting-edge screens, according to market research company IHS Markit.
The new manufacturing lines will produce 18.6 million square meters of the new material or 13 times more than the industry's current level.
"The new capacity will rapidly increase the adoption of AMOLED panels in smartphones," said Charles Annis, senior director at IHS Markit.
Figures released from the research group showed that the global AMOLED panel market is expected to surge 63 percent this year to $25.2 billion compared to the same period in 2016.
Manufacturing capacity in the panels will also grow at a compound annual rate of 91 percent until 2020 from 1.5 million sq m to 20.1 million sq m, IHS Market reported.
"The displays will offer excellent image quality and be a key factor in sales of high-end phones," Annis said.
High costs might restrict smartphone manufacturers from using the technology in the low-end sector of the market. But flexible AMOLED displays are already transforming the industry in the design of new, sleeker and thinner models.
"The application, in fact, of these panels can be expanded from smartphones to tablets and notebooks, as well as new products, because of their flexible properties," IHS Markit stated.
Statistics released from Sigmaintell Consulting Co Ltd, a panel industry specialist, showed that total shipments of AMOLED smartphones reached 350 million last year.
Samsung Electronics Co Ltd dominated the market, while Oppo Electronics Corp and Vivo Mobile Communication Technology Co were the best of the rest.
Other brands such as Huawei Technologies Co, Xiaomi Corp, Gionee Communications Equipment Co and Meizu Technology Co have also launched smartphones equipped with the screens.
"Although the AMOLED industry is developing fast, we should keep enhancing the competitiveness of the currently predominant LCD (liquid-crystal display) technology," said Chen Lijuan, an analyst at Sigmaintell.
"Moreover, we should not just invest in production lines, but also pay more attention to the establishment of the whole industry chain, including raw material, equipment and technology," Chen added.