Pushing globe into easy pay mode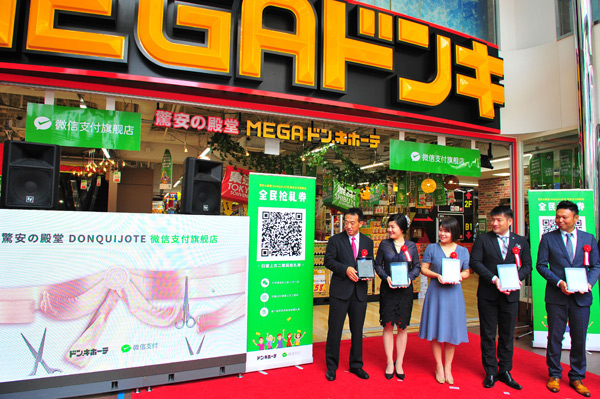 A ceremony involving digital ribbon cutting marks the opening of the 100th retailer in Tokyo where WeChat Pay will be accepted for shopping payments. Tokyo is among the popular international destinations of outbound Chinese travelers. LU SHAOWEI/ FOR CHINA DAILY
WeChat Pay expands internationally to catch up with, and possibly overtake, market leader Alipay
WeChat Pay, the mobile payment tool developed by internet major Tencent Holdings Ltd, is accelerating overseas expansion as it narrows the gap with first-mover Alipay in China's red-hot digital payment arena.
In its latest endeavor, the company has applied for a license in Malaysia to offer local payment services via the app. If it is approved, the license would allow local users to link their local bank accounts to WeChat Pay and make payment in the local currency, the Malaysian ringgit.
The push into the Malaysian market highlights Tencent's ambition to capitalize on a growing number of internet-savvy users who are getting used to making payments by phone. Tencent wants to vie for a bigger slice of the overseas markets wherever the Chinese tourists and the diaspora have a growing presence.
The development comes just days after both WeChat Pay and Alipay struck a deal with US digital payment firm Stripe earlier this month, allowing merchants who use the latter to process transactions to accept Chinese payment tools on their websites and apps.
Tencent has taken the payment service to the United States two months earlier through a partnership with Silicon Valley-based mobile payment startup Citcon.
Under the agreement, WeChat users in China can extend their cashless transactions for shopping and taxis when they travel abroad.
WeChat is quickly gaining momentum as its 938 million active users-more than double that of Alipay's 450 million-form the backbone of China's mobile banking market, which clocked transactions worth 18.8 trillion yuan ($2.77 trillion) in the first quarter of this year, according to Beijing-based consultancy Analysys.
WeChat Pay's share grew exponentially from low double-digit level just two years ago to 40 percent by the first quarter, while that of Alipay shrunk to 54 percent, according to Analysys.
Still it is playing the "chase and catch up" game with Alipay, with the latter having a wider global network for now. At the current stage, WeChat Pay is primarily targeting Chinese outbound tourists, who are becoming affluent and accustomed to the convenient "scan and pay" payment experience at home.
"The short-term target is still Chinese tourists," said Grace Yin, director of WeChat Pay's global operations, on the sidelines of a technology conference in Hong Kong. "The priority is nearby countries most frequented by them, such as those in Southeast Asia."
Currently, such cross-border transactions are available in 13 countries and regions, covering over 130,000 shops and supporting payments in 10 currencies. To beef up such capability, the internet giant also led a $13 million funding round in Australian cross-border payment firm Airwallex.
Thailand is on the list of countries where WeChat Pay has received a warm welcome. Bangkok's duty-free outlet King Power has seen sales significantly jump as more Chinese tourists adopted WeChat for payment, effectively shortening the long queue at checkouts, said the store's marketing manager Kuang Wei.
"(WeChat Pay) literally extends the shopping experience from China to Thailand…shoppers don't have to worry about exchange rate or even the language barrier-simply scan and pay," he said.
The store also publishes promotional ads and discount coupons through its WeChat official account, a service now being picked up by most merchants doing business in China as a gateway to customers.
In Japan, three quarters of stores inside Tokyo's Haneda Airport now accept WeChat as a payment option, boosting monthly revenue "by a large margin", said Takeshi Fujin, deputy senior executive officer.
"Duty-free stores and even taxis in Tokyo, which is a popular destination for Chinese travelers, can now be found using WeChat Pay," said Hunter Williams, partner of global consultancy Oliver Wyman.
"This follows the expansion of UnionPay's acceptance abroad," he said.