WeChat Pay launches new service in HK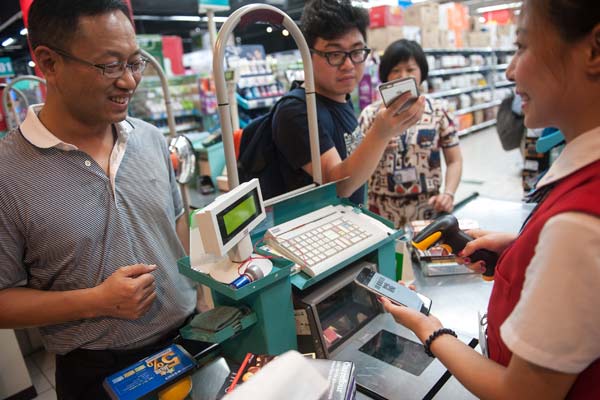 A cashier scans a buyer's WeChat Pay code on his mobile phone at a supermarket in Shenzhen, Guangdong province. [Photo provided to China Daily]
WeChat Pay, one of the Chinese mainland biggest mobile payment platforms, has boosted its cross-border business by launching a new service in Hong Kong.
In a move that is expected to promote businesses of local merchants, it opened a channel for membership card applications when customers pay through WeChat.
After paying for their goods through the platform, they will receive information from local merchants' WeChat official accounts automatically on becoming a member.
The virtual membership card will enable customers to be given details on vendors' latest activities, while at the same time help local merchants gain new followers and promote their businesses.
Hong Kong, which is a major destination for Chinese mainland outbound tourists, is a key market for WeChat Pay to develop its cross-border business, said Grace Yin, director of WeChat Pay international operations.
"We will further increase our investment in the cross-border payment business in Hong Kong to help local merchants better serve mainland tourists," Yin said.
WeChat Pay's move comes at a time when Hong Kong's retail industry is still struggling to recover from a "chilling winter" caused by the decline in the number of mainland visitors.
Mainland arrivals dropped 6.7 percent year-on-year in 2016, according to the Hong Kong Tourism Board. The situation saw a slight improvement this year, rising 1.1 percent from January to February compared with a year earlier.
"Linkage of WeChat payment and the merchants membership system will enable us to provide a better shopping experience to consumers, thereby enhancing our brand reputation. Moreover, with data on WeChat Pay users, we will be able to understand our consumers better," said Wang Yifan, social media specialist with British cosmetics brand Lush, which has a number of stores in Hong Kong.