Staff-less shops zoom into frame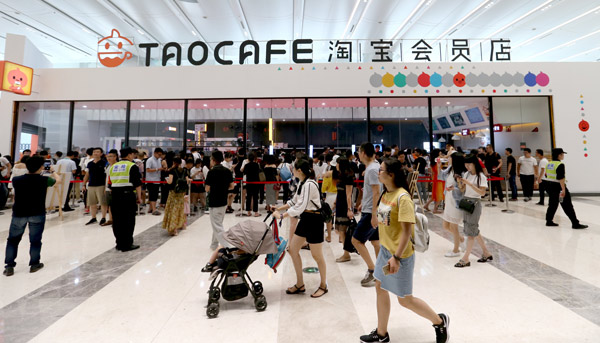 Alibaba Group's cashier-free retail store Tao Cafe attracts customers in Hangzhou, Zhejiang province. [Photo by Wang Zhuangfei/China Daily]
Chinese e-commerce giant and data technology provider Alibaba Group has just unveiled a cashier-free retail store.
The online group has joined other retail chains and tech startups flocking into the market with their own solutions, making staff-less retail one of the hottest tech trends.
Tao Cafe opened for a trial run on July 8. In the footsteps of the Amazon Go store that made a big debut last year with its use of tracking cameras, it utilizes a facial and voice recognition system.
Purchases are tracked by a facial recognition camera, and the system automatically generates bills as soon as customers walk out of the specially designed gate that can identify them with biological sensing technology.
Kicking it off before Alibaba, Guangdong-based tech startup BingoBox started to spread its version of staff-less stores, after being granted 100 million yuan ($14.8 million) in its first round of financing.
Unlike Tao Cafe, Bingobox is more of a hybrid between convenience stores and vending machines, where customers can walk in and pay by scanning QR codes on their phone. This bypasses eye contact and small talk that normally take place with cashiers in traditional stores.
"By the end of August, we are expecting to open 200 more Bingobox stores," said Chen Zilin, CEO of Bingobox.
"We only cost a quarter of a traditional convenience store, and running costs are one-eighth."
Neil Wang, president of global consulting firm Frost & Sullivan China, said staff-less stores will bring the "next spring" to the retail industry.
"Staff-less stores are a combination of digital payments, radio frequency identification technology, biological recognition, big data and AI," Wang said.
"They will lower the risk of shop lifting, optimize the goods and reduce costs, from running and maintenance costs to human labor."
Chen Haibo, CEO of Shenlan Technology Co, said that rental and human labor costs were holding the traditional retail sector back.
"In 2017, staff-less stores will boom," Chen added.
Beverage giant Wahaha Group Co Ltd recently signed a nearly 10 billion yuan deal with Shenlan Technology (Shanghai) Co to build 100,000 self-service Take Go smart stores in three years.
Japanese convenience store chain Lawson Inc is currently running trials with an unmanned store in Osaka which is expected to go into commercial use soon.
Whleeys Cafe, a Silicon Valley backed startup, has taken its vision of future retail one step further with Moby Mart-a staff-less self-driving vending car with an AI hologram assistant.
"We will have a membership system where we can collect our users' data, so we can deploy our cars into the areas with the optimized products selection," said Per Cromwell, lead designer of Moby Mart.
Cromwell said China had the world's largest number of mobile payment users. It had gone much further than Europe and made Moby Mart possible.
"Currently it costs $200,000 to $300,000 to make one Moby Mart, and we can lower it down to $40,000 when it comes to mass production," he said.
"Also, we don't need to pay rent but something like a parking fee," he added.
As a retailer and staff-less solutions provider, Cromwell said mobility would become the next turning point. He said they were talking with some of the world's top retail chains, which were interested in upgrading from the traditional retail mode, but preferred not to to disclose names.
One potential road block, however: Cromwell said the startup was still waiting for the self-driving car to be legalized before they could achieve their vision of a future retail where the shop comes to the customers' door.