Digging a claw into Arcade gaming and making it high-tech again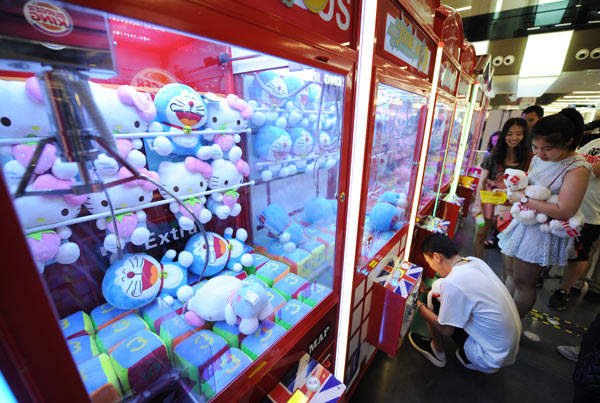 People play on a toy claw machine in Taiyuan, Shanxi province. [Photo by Deng Yinming/For China Daily]
A new high-tech solution has turned an old style Arcade toy claw machine into a trendy investment opportunity.
By simply using their smartphones to scan a QR code on the windows of these gaming terminals, customers can pay to play through WeChat or Alipay.
In a flash, the days of inserting coins have been consigned to history.
The sector is so hot that Leyaoyao Information Technology Ltd Co, which makes mobile payment devices for claw machines in Shenzhen, has received three rounds of funding, totaling about 60 million yuan ($8.87 million).
"We sold about 80,000 QR code devices for toy claw machines in more than 300 cities by May," the company told Sohu.com, one of China's biggest media online outlets. "Monthly payments from these machines totaled 80 million yuan."
Leyaoyao also makes money by selling advertising on its WeChat account, which users are guided to before paying to play on claw machines.
These are Arcade games where you try to pick up gifts, such as cuddly toys and key rings, by moving a mechanical claw.
Before QR coding, you could only find them in Arcades as you had to employ staff to empty the coins from the machines. But now they are sprouting up in shopping malls, movie theaters and even metro stations because you need a minimal number of staff to service them.
"All of our company's 4,000 machines have been equipped with mobile payment devices," said Li Rongwang, operations and technology director at Guangzhou Star Nigel Trade Co Ltd.
He also pointed out that new technology has solved the problem of "fake coins" for one of the largest manufacturers and operators of doll claw machines in China.
"The price of one fake coin is about 0.35 yuan to 0.5 yuan, but the value of our coin is 1 yuan."
By switching over to QR coding, the company's profits have increased by between 2 percent to 3 percent. "Overall, the significance of the upgrade is about management," he said.
AllpayCloud Technology Co Ltd, a startup which is also based in Guangzhou, has also transformed the toy claw machine sector after rolling out its Saas (Software as a Service) platform.
This is a long-distance and real-time management system, which incorporates venue placements, machines and staff. It processes about 20,000 payments every day, while daily transactions exceed 1 million yuan.
"Our system can report malfunctions in machines and analyze big data collected to optimize the marketing plan," said Zhou Jiaxin, chief executive officer of AllPayCloud.
Li Yongji, director of the creative cultural gifts machines' branch at the China Association of Amusement Parks and Attractions, confirmed there are about 1.5 million toy claw machines in the country with 150,000 units added each year.
"At least 10 percent of that total now have mobile payment systems," he said.
The Association is planning to further upgrade the toy machine industry by labeling gifts with price tag barcodes. "In future, customers will finally get the toy if they spend enough money," Li said. "If they spend the same amount that the toy is worth, they get free goes until they win it."
More importantly, Li stressed that regulations might have to change, such as tax issues and standardized practices, to help the sector develop.