Caution urged in weighing up AI starts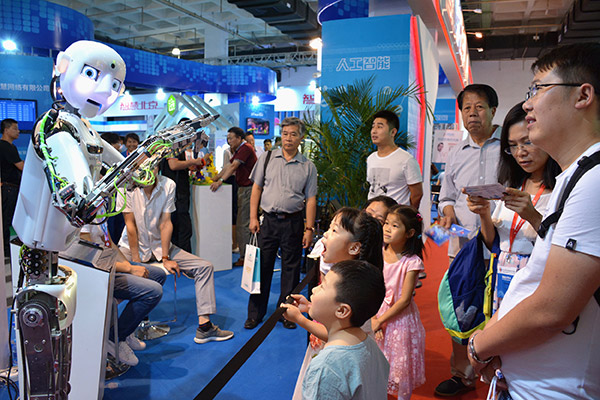 Delighted children and adults watch the performance of a robot at the 2017 China Beijing International High-Tech Expo on June 8. [Photo/China Daily]
Chinese investors are scrambling to pour their money into artificial intelligence. But they also need to be careful and distinguish in the flood of business plans between the doubtful AI-enabled startups and those with real potential, experts in the field cautioned.
Investors, additionally, warned that startup entrepreneurs should concentrate on meeting a specific demand in a particular sector, rather than being unfocused and over-ambitious towards an industry.
Xu Jian, director of iLive Future Lab at Tsinghua SEM X-elerator, an incubator based in Beijing, is looking for opportunities in machine perception, including speech and facial recognition.
Qiao Huijun, a partner of Beijing-based venture capital firm Angelplus, is focusing on AI applications in unmanned vehicles.
Liang Yu, a partner of Beijing-based China Creation Ventures, on the other hand, considers AI to be the leading force to optimize quantitative investment strategies.
Wooed by the capital market, China's AI sector will increase 40.7 percent year-on-year to be worth 13 billion yuan ($1.9 billion) in 2017, according to Shenzhen-based ASKCI Consulting Co Ltd. Back in 2016, the market size was 9.7 billion yuan, up 37.9 percent from the previous year.
The top three sectors absorbing AI investments from 2011 to 2015 were computer vision (55 percent), natural language processing (13 percent) and machine learning (9 percent).
"China has obvious advantages in machine perception, riding on its great talent pool and low-cost manufacturing capability," Xu Jian told China Daily.
"Chinese cities, like Shenzhen, will likely grow into a global manufacturing center for core components of machine perception."
However Cheng Qiangjun, with Hi-Fortune Capital Management Ltd, said investment risks should be noted, as many technologies were not AI-capable as the startups claimed.
"I've discussed it with many AI experts. In their opinion, nearly 80 percent to 90 percent of the enterprises are not truly AI, but fake AI-enabled," Cheng said at a recent international robotics and artificial intelligence conference.
Cheng said that on the surface the companies put out convincing arguments, displaying their products, in their pitch to investors.
"But most of their so-called independently developed technologies, such as speech or facial recognition, are actually copied from others."
Two standards to apply to evaluating startups in the AI field, Cheng said, were to test whether the technologies the companies used were up to date, and to judge whether their systems and businesses could be extended.
"If the answer is in the negative, then they cannot be considered as real AI companies, with just part of their machine learning algorithms or technologies at a very shallow level."
All technologies develop from generation to generation, and AI is no exception.
Entrepreneurs should concentrate on one particular application before applying it to different scenarios, Cheng added.
Zhuang Qiange contributed to this story.