AI will boost economy and create demand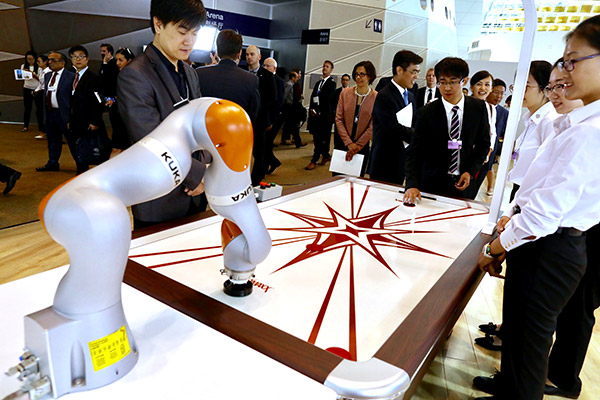 A man playing with a robot during the World Economic Forum, June 27. [Photo by Zhu Xingxin/China Daily]
China will be among the biggest beneficiaries of "artificial intelligence" technology, a new report revealed on Tuesday.
PricewaterhouseCoopers, the multinational consultancy company, forecasts that AI development will contribute $15.7 trillion to the global economy in 2030.
The PwC report predicted that global GDP will be 14 percent higher in 2030 as AI is widely used to boost labor productivity and increase consumer demand for technology-inspired products.
"The greatest economic gains from AI will be in China, with 26 percent boost to its GDP in 2030, and North America, with 14.5 percent boost," the report said.
According to PwC, AI-enabled growth from the two economies will be the equivalent of $10.7 trillion in 2030 and accounts for almost 70 percent of the global total.
Anand Rao, an AI consultant at PwC, stressed that initially North America would experience productivity gains faster than China.
But that would eventually change. Rao pointed out that China will begin to pull ahead of the US in AI in 10 years "after it catches up on both relevant technologies and expertise".
"AI will empower a slate of applications such as the internet of things, augmented reality and robots, which will significantly enhance productivity," Rao said.
China's high-tech giants have been pouring billions of dollars into setting up AI laboratories and poaching talent from foreign rivals.
Earlier this month, Alibaba Group Holding Ltd appointed Ren Xiaofeng, a former senior principal scientist at Amazon.com Inc, to spearhead its research and development in computer vision.
The move came shortly after Tencent Holdings Ltd set up its first US-based AI research lab in Seattle. The project is led by former Microsoft Corp scientist Yu Dong and focuses on voice recognition technology.
Baidu Inc has also increased its AI spending and brought in former Microsoft executive Lu Qi as group president. He will play a key role in rolling out Baidu's Apollo Project to help drive the development of autonomous cars.
Their efforts are roughly in accordance with the business areas PwC identified as having the greatest AI potential.
The report, for instance, pinpointed autonomous fleets for ride-sharing and smart cars as the key areas for growth in the automotive sector .
Overall, the biggest sector gains will be in retail, financial services and healthcare, as AI increases productivity, product value, and consumption, PwC reported.
"But more robust governance and new operating models will be needed to realize AI's full potential and underpin all the opportunities it brings," said Jim Woods, an consultant for global risk assurance at PwC.